Emergency Flood Cleanup & Restoration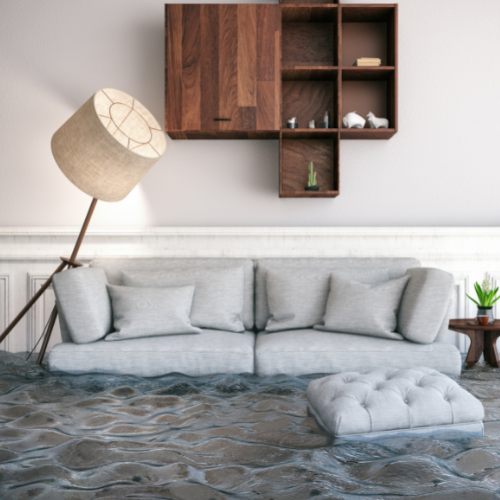 Is a burst pipe, sewage backup, storm, or leaky appliance causing water to flood your property?
This needs to be addressed immediately.
Flooding happens fast, and your response needs to be faster with trusted flood damage restoration technicians. Canada's Restoration Services is specialized in emergency water damage and flood restoration for commercial and residential properties.
Our team of IICRC certified specialists can be at your service in 45 minutes or less for flood restoration around your property as well as basement flood cleanup.
Act Fast With Flood Damage Cleanup
The longer you wait to begin flood restoration, the worse damage gets, and the more severe the risks.
Indoor flooding damages the structure of your property, including:
Extensive flooding or water damage increases safety hazards
Bacteria from contaminated water
Mold and mildew infestations
Electrical socket and wire damage
Blocked sewage systems and drains
Why Flood Damage Restoration is Crucial
It's vital that flood water not sit for long periods of time. The longer it takes for flood damage restoration, the more likely bacteria will infiltrate air quality. Extended water damage that goes unrestored with reliable flood cleanup in Toronto will likely result in outbreaks requiring high-level mold removal in Toronto. Fast and effective basement flood cleanup not only preserves the structure but also the property value by minimizing the lasting consequences of flood water.
Flood Damage Restoration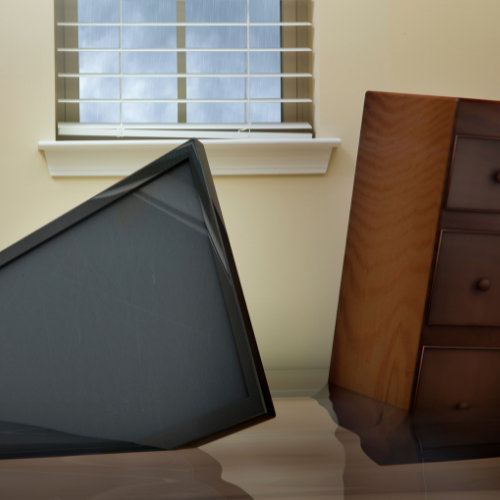 When you call the flood damage restoration specialists at Canada's Restoration Services, we send a team of IICRC certified technicians to your property who will arrive on site within 45 minutes and begin flooded basement cleanup immediately, reversing the damage.
Step 1: Assess the Source of Water
The first step of successful flood damage cleanup and restoration is identifying the source of flood water and assessing its potential risk. It isn't until the source of the flooding is addressed and blocked off that technicians can proceed with the restoration.
Indoor flood water is divided into 3 main categories that determine the safety levels of interacting with the water. Water coming from drains, toilets, showers, or the basement is likely the result of sewage backup. Basement flood cleanup usually means water contaminated with bacteria like E Coli, which means that it should only be managed by a prepared and trained professional.
Step 2: Flood Water Removal
Before the true scope of damage can be assessed, flood restoration teams will remove water via pumps and other specialized equipment designed to get the contaminated water out fast and efficiently.
Step 3: Flood Damage Restoration
After the affected area has been drained and cleared, restoration of damaged materials can begin. Technicians will sort through items in the flood zone and sort them into two categories: salvageable and non-salvageable. Once contaminated drywall, wood, carpets, and other materials have been replaced and salvaged, cleaned up, and checked over by a flood damage specialist, your property will be suitable to reoccupy.
Types of Indoor Flooding
All types of flooding are a risk to health and structural integrity without timely flood cleanup. However, the severity and dangers of flooding can increase substantially depending on the category in which the flood water belongs. To manage the hazards of flood cleanup, flood damage restoration services divide flood water into 3 main categories, each more hazardous than the last. To minimize the impact of flooding on your property and its occupants, contact Canada's Restoration Service for fast flood damage restoration.
Category 1: Sanitary/Clean Water Flooding. Here water comes from sources that we are confident are clean and hygienic. Usually, water coming out of a faucet, water heaters, or appliance input (washing machines & dishwashers) are all clean water. During flood cleanup, you'll see that this water is clear and doesn't pose an immediate threat. It is still safest to avoid contact with the water if it becomes electrified. If it is possible to safely turn off the source of the flood water, you can do so in your short wait for our flood damage restoration specialists to arrive.
Category 2: Substantially Contaminated/Grey Water Flooding. Grey water flooding is a result of water from a contaminated source. While there are worse levels of contamination, the IICRC describes grey water flooding as significantly tainted. As such, there should only be contact made by a certified flood cleanup technician. This water can have chemical and/or organic contamination. It's typically the result of an overflow from a washing machine, dishwasher, or toilet (when there's only urine) during or after use. Contact with any of these substances, from bleach and grease to urine, can result in irritation or even illness in some cases. Flood damage restoration of grey water should always be left to the professionals.
Category 3: Grossly Contaminated/Black Water Flooding. Black water flooding should immediately be considered toxic to inhale or touch. This flood water is highly contaminated, containing viruses, bacteria, fecal matter, harsh chemicals and other toxins. Black water flooding is, more often than not, the result of a drain or sewage backup. You'll most commonly need black water flood damage restoration in the bathroom or sewage backup cleanup in the basement, but this does not mean that other rooms are entirely out of the danger zone. Storm water, sewage backups, and wasteline backflows are all potential causes of black water flooding. To take care of it quickly, clear your air, and maintain a healthy property, contact Canada's Restoration Services for flood damage restoration. Our flood cleanup team will show up in 45 minutes or less with a strategy, advanced tools, and the experiences to streamline restoration.
Where is Most Vulnerable to Floods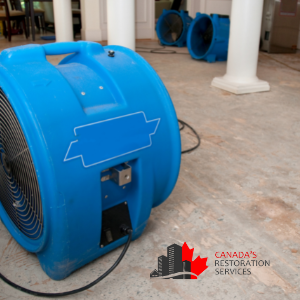 Flood damage can happen on any level of your property with windows or plumbing. By far, the most common area that requires flood damage cleanup and restoration is the basement. It's the basement where sewage backups and spring runoff from rain and melting snow most frequently target.
If you need flood damage restoration, call Canada's Restoration Services Today. We offer financing options for qualifying customers and work with many insurance companies.
Why Choose Canada's Restoration Services?
Canada's Restoration Services is a locally recognized and renowned flood damage restoration service provider in the Toronto area and elsewhere in Canada. With more than a decade of experience and IICRC certification (one of the most prominent restoration certifications), we are trusted in our community to deliver high-quality, fast, and reliable restoration of all types of residential and commercial flooding.
Call us today. We'll Arrive in 45 minutes or less.