Equipment Rental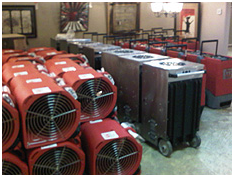 Water Damages are usually unexpected and can occur anytime, anywhere. The main objective in reducing any damages is removing the water as quickly as possible and reducing the humidity and moisture levels. However, not all water damages require professionals and can be controlled by the home owner.
Canada's Restoration Services now offers rental services. When removing any water leakage, it is important to reduce the moisture levels with the proper equipment. Canada's Restoration Services offers dehumidifiers, air movers, air scrubbers, and negative air machines for rent.
Rent the right equipment, trusted by professionals so you know that the job will be done right. We provide a low cost with high quality equipment.