How Long Does Mold Take to Grow After a Flood
Just 24-48 hours after a flood or water damage has occurred, mold will start to grow. The longer property owners wait to schedule emergency water damage restoration services the further infestations will grow. To prevent the widespread infiltration of mold around your property and mitigate future mold removal costs, the best course of action is to call Canada's Restoration Services for water damage restoration and mold removal in Toronto.
Our teams specialize in both flood damage cleanup and mold removal services across the country, enabling us to provide expertise that will restore your property.
Emergency Water Damage Restoration Services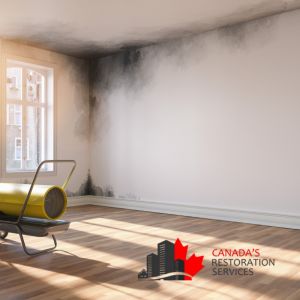 Immediately after any water damage has occurred in a property, be it a flood, leak or busted pipe, you will need professional cleanup services to restore the damage. In many cases, flood water is hazardous and contaminated with bacteria and chemicals, making it harmful to those not well-equipped to deal with it. To avoid inhaling water and sewage from a flood, contact Canada's Restoration Services for expert emergency water damage restoration services.
Mold Removal Toronto
For best results it is advised to have mold remediation services 24-48 hours after a flood or any sort of water damage. If mold is not removed properly, it can cause the spores to spread and can increase the risk of illness from mold exposure. Mold can pose significant health risks, so it's a good idea to consider hiring professionals for any mold removal. The sooner you deal with water damage and flooding the less expansive outbreaks will be and as a result your mold removal costs will also be reduced.
To limit the overall frustrations and cost of mold removal, contact our team of certified professionals at Canada's Restoration Services. We are experienced in dealing with water damage restoration and can provide swift mold remediation services so that more serious risks don't occur down the road.
Contact Canada's Restoration Services now for more information.