Can You Get Sick from a Flooded Basement?
You can get sick from a flooded basement, which is why hiring professional certified contractors for a flood restoration in Toronto is recommended. The risk of illness is primarily associated with a sewage backup flood, which occurs in the house's basement. Water damage restoration in Toronto is performed thoroughly by a professional company as they will have the protective attire and equipment to properly assess and remove the water and damaged materials.
How Does a Basement Flood Make You Sick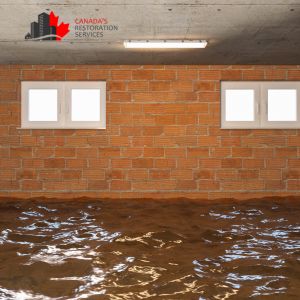 You can get sick from a flooded basement because if the flood is caused by a sewage backup, the water is likely contaminated with germs, bacteria, and dangerous chemicals. It is advised to not inhale or let the water touch your skin, which is why a flood cleanup in Toronto should be handled by trained professionals. After some time, water damage will also trigger mold infestations that require comprehensive mold removal in Toronto from a professional.
Water Damage Restoration in Toronto
Water damage restoration in Toronto requires several steps to be performed thoroughly.
After a basement flood, certified contractors will remove the water and dry the area. Companies like Canada's Restoration Services will use advanced technology, like thermal imaging, to assess the level and extent of the water damage. Non Salvageable materials will then be removed along with any mold infestations. All the areas damaged by the flood will then be restored.
Canada's Restoration Services for Basement Floods
If your basement has flooded, don't panic. Call Canada's Restoration Services, as we are available 24/7, and we will manage everything for you. We are award-winning industry leaders with over 15 years of experience.