Flood & Water Damage Repair in Mississauga
Surprise Leak, Flooding, Storm, or Sewage Backup Wreaking Havon on Your Property?
Dispatch Emergency Water Damage Repair in Mississauga - On-Site in 45 Minutes or Less!
We will contact you every 15 minutes with an updated estimated time of arrival.
Water Damage Restoration Services in Mississauga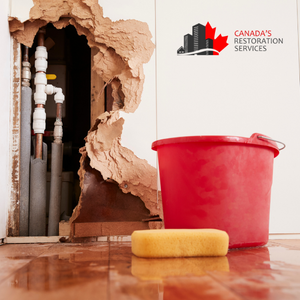 When unexpected damages occur Canada's Restoration Services provides comprehensive water damage restoration in Mississauga knows that you have enough to worry about, let us help you ease the process by doing what we do best – restoring your home.
Free on-site inspections following water/sewage damages
Water extraction (pumps and water removal)
Storage for salvaged possessions
Pack-out services
Disposal of damaged or non-salvageable material
Drying of flooded areas
Sanitizing of flooded areas
Restore Your Water Damaged Property Fast
REACTION: The sooner you call the faster we can respond, preventing sever damage, including secondary damage (electrical damage or mold contamination), to your residential or commercial property. Using advanced technology, years of experience, industry training, and our expertise, our goal at Canada's Restoration Services objective is to prepare an immediate assessment on the damage and present, to you, a detailed analysis of our findings. Thermal Imaging on every site helps determine what areas and materials are affected, the scope of the damage and what the next step is for the best water damage restoration in Mississauga. Our team deals with all insurance companies and we will guide you through this process if needed.
SOURCE IDENTIFICATION & CONTAINMENT: During water damage restoration in Mississauga, our primary goal is to stop excess water from entering your property by locating the source or cause of flooding within your property. Once the cause of the flooding is identified and effectively controlled, the second phase of water damage cleanup can begin. The second order of business is to minimize water-induced damage by pumping out and removing flood water or sewage. At the same time, valuable and accessible materials, contents, and personal belongings will be removed from the affected area to protect them from the water, where they will be tested for contamination. Contamination can happen via mold, bacteria, and viruses, especially during a sewage back up. For sewage backup cleanup and mold removal in Toronto, Mississauga, or elsewhere in the GTA, it is safest to leave restoration and cleanup to trusted professionals.
RESTORATION: We use only the latest in professional equipment to extract the water and dry out the premises.
Powerful dehumidifiers are strategically placed to provide high velocity air movement throughout the affected area. Once we have the premises completely dry and all infected materials are removed the restoration process will begin. Our focus is ensuring that mold will not grow as a result of the water damage. Our objective is to restore the water damaged area to its original condition guaranteeing that you, the customer, are completely satisfied with our work!
Water Damage Repair & Canada's Restoration Services
Canada's Restoration Services of Mississauga is a leader in the Water Damage Restoration Industry. From water and sewage damage restoration to full structural drying, Canada's Restoration Services of Mississauga knows how to get the job done properly allowing you to have the peace of mind you deserve. Canada's Restoration Services of Mississauga has successfully dealt with any type of water and sewage damage. We are experts in water extraction, water damage cleanup in Mississauga, sewage backup cleanup, flooded basements, water damaged walls/ceilings, flooded wood floors, drying and flood repair services.
Contact Us 24 hours a day, 7 days a week for Water Damage Restoration, Water Damage Repair, Water Extraction, Flood Damage, and Water Removal Emergencies. Our IICRC certified technicians are always ready for you when disaster hits.
WATER DAMAGE DRYING & CLEAN UP
We are specialists in assessing and restoring flood damage, sewage backups, burst pipes, water extraction and damage restoration. For the most effective water damage restoration in Toronto, call us as soon as the water damage emergency occurs as our service includes emergency and thorough plumbing repairs too. Click Here for Full Service Details
SEWAGE BACKUP CLEANUP & DISINFECTION
Sewage backups create a severe health hazard. The longer the contamination process is allowed to persist the greater the potential for bacteria development & growth that may lead to serious illness. Click Here for Full Service Details
WATER DAMAGE RESTORATION & SECONDARY DAMAGE
The longer you wait the more secondary damage can follow and your necessary repairs will increase! Canada's Restoration Services can help you. The longer you wait for water damage repair and cleanup in Mississauga, the sooner mold will set in. For mold inspections and mold removal in Toronto and the surrounding areas Canada's Restoration Services can help. Click Here for Full Service Detail
Choosing Canada's Restoration Services Mississauga
Canada Restoration Services of Mississauga is an Insurance Approved Vendor; we work with the all major insurance companies in Canada. If required we handle communications with insurance companies and invoice your insurance directly, so that you don't have to trouble yourself with the process.