How Do You Clean the Air After a Flood?
After a water damage incident and flood cleanup, it is imperative to try and decrease the amount of moisture in the air to prevent a severe mold infestation. In most cases, mold will start to appear in just 24-48 hours after a flood. After a flood, a significant amount of bacteria, viruses and other contaminants enter with floodwater and through the air, so it is best to contact a certified company for flood restoration in Toronto like Canada's Restoration Services.
Air Circulation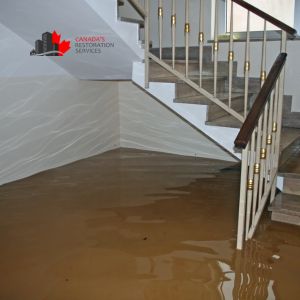 Increasing air circulation is one of the most effective ways to prevent mold growth. Mold spores are circulating regularly but once they get the chance to settle is when they multiply and cause a problem. Start with opening the windows on your property. After a flood cleanup a restoration company will remove the excess water using pumps and specialized equipment. They will then use powerful dehumidifiers to increase air circulation aggressively.
Flood Restoration in Toronto
Flood restoration in Toronto is best handled by experienced certified contractors who will have all the professional equipment ready for use. It will be more powerful and effective than trying to take a DIY approach. Flood restoration service companies are skilled in handling flood cleanups and performing thorough restoration using thermal technology to properly assess the extent of the water damage. After a flood, certfified contractors will inspect the property and conduct mold removal in Toronto, if needed.
Certified contractors ensure your HVAC systems are safe to run. Once an HVAC system is assessed to be safe, it can then be utilized to help with the drying and filtration of the area.
Canada's Restoration Services for Flood Restoration
Canada's Restoration Services is an award-winning company operating in large cities across Canada. We can arrive within 45 minutes or less and manage your flood. Keep your property safe and receive professional cleanup services to remove any bacteria, mold, or chemicals.
Don't hesitate to contact our flood restoration experts now.