Water & Flood Damage Restoration & Cleanup Service in Montreal
Water damages can lead to a huge disaster if you do not act quickly and effectively. At Canada's Restoration Services, we operate 24 hours a day, 7 days a week and on site within 45 minutes for emergency water damages. Our water damage experts have worked on several types of water damages, such as flood homes, flooded basements, wet basements, foundation water damage, wood floor water damage, sewer backup and burst pipes.

Call us now for water damage emergencies
1-888-551-0514
Water Damage Restoration in Montreal
Reaction: The faster you call Canada's Restoration Services, the quicker we can prevent serious damage and secondary damages (such as mold damage) to your home or business. Our objective is to conduct a water damage inspection and construct a detailed analysis on our findings. Canada's Restoration Services will walk you through the assessment and will provide you with a report that outlines our findings along with the recommended next steps.
For water damage emergencies, we skip the inspection and begin the water extraction process. We work with every insurance company in Canada and will happily assist you with any required documentation and direct billing. We offer this service to our valued customers to bring our clients at ease during unexpected and stressful times like water damages.
IDENTIFY THE LEAK
During the water damage inspection, our main objective is to find the source of the leak and take the necessary actions to stop the leak. Afterwards, we gather and pump all excess water and/or sewage and salvage any contents and materials. Our IICRC certified professionals are all highly trained.
All affected areas and materials must be thoroughly dried, disinfected and deodrized by water damage experts to avoid bacteria and viruses. The longer the contamination process is allowed to persist, the greater the potential for bacteria development & growth that may lead to serious illness.Lastly, we will remove all unsalvageable contents, then test for contamination and begin the sanitation process.
WATER DAMAGE EQUIPMENT
We use state-of-the-art equipment including thermal imaging guns on every site to help determine what parts of your home are wet and how wet the area is. We utilize dehumidifers to help remove the moisture from the air, which also helps prevent mold from occuring. With the use of air scrubbers, we are able to clean the air to prevent allergens. Furthermore, we also use air movers to dry out water damaged areas.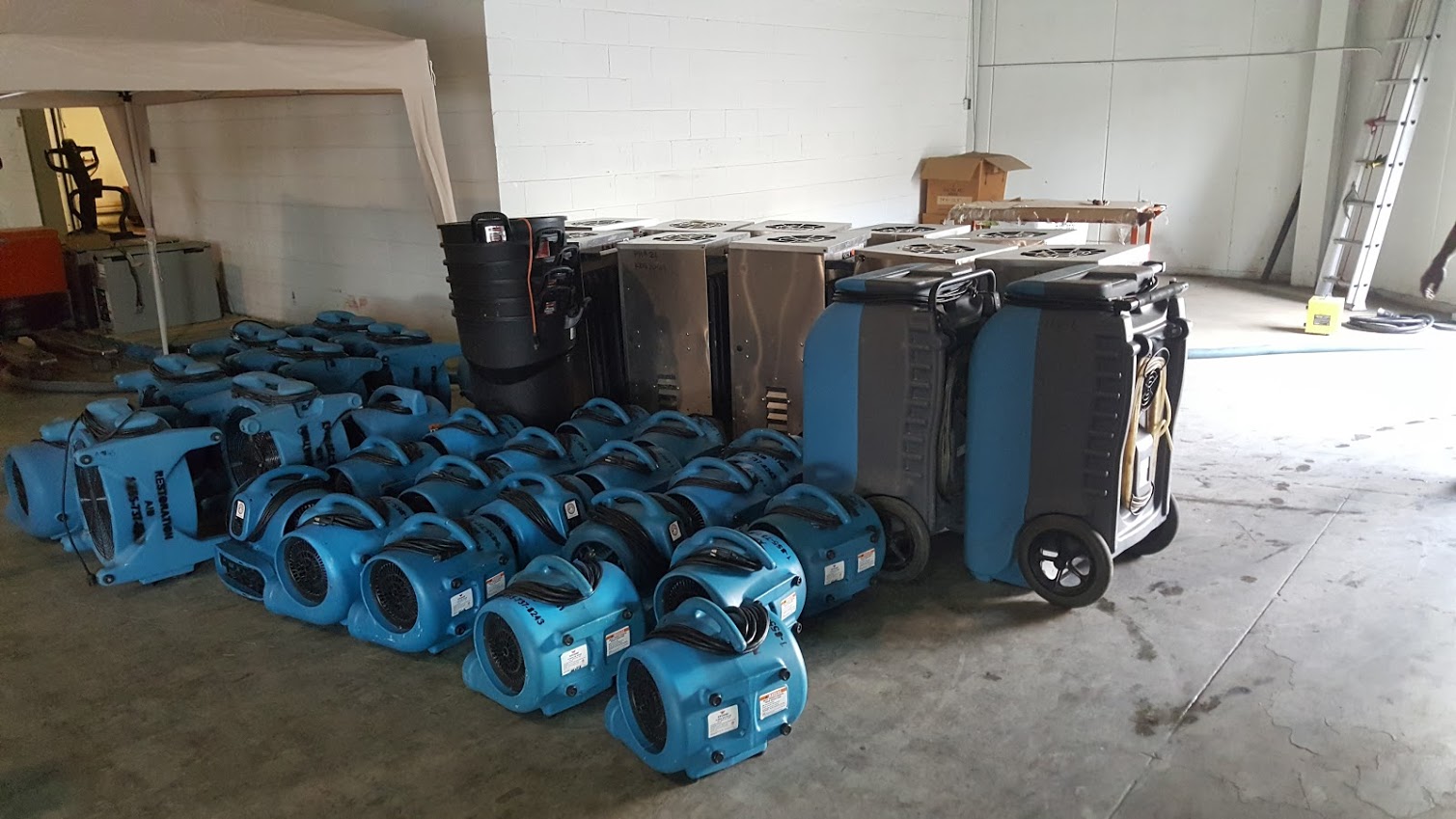 Finding a water damage company in Montreal that uses advanced technology and equipment is essential for complete water extraction and water remediation. Without moisture detection equipment, it is impossible to be able to recognize if there is still moisture in your home. By not hiring the right water damage company, you are putting you and your family at risk and allowing secondary damages to occur, such as bacteria growth, building material damage and mold damage. Mold can result from improper water damage restoration and can be costly to remove. At Canada's Restoration Services, we perform water damage restoration services in Montreal that helps homeowners and business owners save time and money.
Emergency Water Damage in Montreal
Being prepared and having a reliable water damage company in Montreal is key during and after deal a disaster. Our disaster remediation services work 24/7 to help homeowners and business owners deal with all kinds of water damage emergencies, including: flood cleaning, storm damages, sewer backup and sewer pipe damages.
Click here for more information on:
• Water Damage Services • Water Damage Procedure • Sewer Backup •
• Burst Pipes • Flood Damage / Flooded Basement • Flood Repair Costs •
• Pack out Services • Leak Detection • Content Restoration •
Speak to a water damage expert today
1-888-551-0514