Toronto Mold Removal and Inspection
Canada's Restoration Services provoides expert mold removal and inspection services in Toronto and all the major cities surrounding Toronto, Ottawa, Montreal, Edmonton, Calgary, and Vancouver.
For visible mold, Canada's Restoration Services performs free inspections which includes:
identifying the source;
building the scope;
making immediate recommendations;
providing the estimate to you in a timely manner.
Canada's Restoration Services is an award-winning company with Homestars and is regularly featured on Mike Holmes, Make it Right filmed in Toronto. This indicates that Canada's Restoration Services are Canadians Number 1 Choice when it comes to mold remediation and mold removal services in Toronto and all the major cities surrounding Toronto, Ottawa, Montreal, Edmonton, Calgary, and Vancouver.
Mold is an unwanted substance that grows in your home, which can be very dangerous for you and your family. The mold experts at Canada's Restoration Services ensure to follow all industry guidelines. We are fully licensed, trained, certified, and have environmental pollution liability.
To learn more about Mold Removal Costs, Click Here or to learn more about the six step mold removal procedure, click here.
We offer free in-house financing to help with any mold-related issues.
Our Mold Remediation and Mold Removal Services Toronto Include:
We Serve – Toronto – Mississauga – Etobicoke – Vaughan – Brampton – GTA & Surrounding areas
⭐️ Mold Removal FAQs
Mold is everywhere in our environment and most of the time is unseen to the human eye; but when it is given the right conditions, it will start form and become visible.
Mold needs three things to grow:
A home to grow – any organic material (ie. wood, fabrics)
A water source
Lack of air flow
When given these three characteristics, mold will start to grow.
It does not take much time at all for mold to grow. Once given the proper conditions mentioned above, it can grow as quickly as 24 hours.
Therefore, it is extremely important that if you have experienced a water damage or a flood to get the right solution, as quickly as possible. Secondary Damages, including the growth of mold, has a high possibility of arising.
Everyone reacts to mold differently. Certain people have more of a sensitivity to mold than others. Thereby, this question all depends on the individual person.
There are certain types of mold that are more harmful than others; however, if mold spores become too elevated, any type can affect the human body. One of the more harmful molds is "Stachybotrys" or "Toxic Black Mold" – this type of mold should not be present in any living space.
Q: What is a safe level of mold?
When looking at the safe levels of mold, the global industry standards is to compare the inside of your home to the air you breathe outside. During spring and summer, taking a sample from outside and comparing it to the inside of your home should have a relative mold count.
However, during winter months, comparisons and samples should differ. Due to a lack of mold spores outside during the cold season, it is important to take a sample from the opposite side of the premises where mold is not suspected. The reason why is because there is an absence of mold spores outside and comparing it to the inside of your home would produce inaccurate results. Industry standards during the cold season is to compare the sample of the mold inside your home to a sample of the mold inside the opposite area of your home, thereby producing an accurate analysis.
Q: Can mold exist even if I can't see it?
As previously mentioned, mold is everywhere. Mold spores are smaller than dust particles so they are unable to be seen by the human eye.
The issue lies when the mold spores inside our living environment become higher than that to what it is our environment. High elevations of mold can cause it to start growing and have health affects to ones body.
Q: How do I know if there are elevated mold spores in my home?
If mold has started to grow in your home, then that is the first sign that there could be elevated mold spores in the air. However; the only way to be 100% positive is to have a mold inspection completed.
Air Quality Testing will be necessary to identify this. It utilizes actual from the air and analyzes the types of mold and levels of mold.
Q: Does a musty smell in my home mean mold?
A musty earthy smell can mean that there is mold and water present - which is not a good sign. To determine if it is related to water or mold, you must have air quality testing done and moisture readings.
Some molds are safe for you to remove yourself but it is best to consult a mold removal specialist first. We advise homeowners to not deal with any mold-related issue themselves because you may cross-contaminate your home with mold spores. Once mold has been disturbed it becomes airborne and can travel throughout other areas of your home, causing more damage to the situation.
Q: Who should remove mold?
Hiring the right company is extremely important when it comes to safe mold removal. The company must be certified and trained with the knowledge and experience as well as insured.
A proper inspection is important in determining the source, scope of work to eleminate the mold, and costs associated. During the inspection, pictures and all pertinent information will be collected and provided to you in a scope of work along with the estimate. It will break down step by step what the process will entail.
At Canada's Restoration Services, we have a specialized division of employees that work around the clock to help solve all your mold-related needs. All our technicians are certified and training and follow all industry guidelines when it comes to safe mold removal in Toronto and all the major cities surrounding Toronto. Trust Canada's #1 Mold Removal Specialists in Toronto and all the major cities surrounding Toronto, Ottawa, Montreal, Edmonton, Calgary, and Vancouver and call us today to book your free inspection: 1-888-551-0514.
Health Symptoms related to Mold Growth
Mildews and molds are omnipresent. Mold spores are the units of life, which is the same to the seeds of plants. These spores are floating around in the air and making their way straight to your home. Molds are types of fungal species that propagates in a form that is called hypha. The hypha are basically transparent, therefore the mycelium appears to be very fine, cottony white threads on the surface. Thus, this kind of fungus does not only endanger your properties but also your health. It can be highly dangerous once inhaled as it can sit inside the body and cause various types of diseases. Mold spores density increases within an indoor environment. This means that even though the spores may not be active, the air will become unhealthy. This can start to affect the respiratory track if inhaled and cause worsen allergies.
Mold related health symptoms:
Irritations: skin, throat, eyes and nose
Coughing, wheezing and shortness of breath
Allergic Reactions
Worsen asthma symptoms
More severe symptoms can be respiratory and lung issues.
The extent of health symptoms are based per individual, type of mold and severity/extent of the mold. Those that are more vulnerable to mold symptoms are:
Young individuals below the age of 5; children and infants
Elderly individuals above the age of 55
Woman who are pregnant
Those with allergies to dust and mold spores
Those with asthma
Those with weakened immune systems
Here is the process for mold growth in your home:
Hyphal Growth: the hyphae look-like a thread filamentous cells, which produces enzymes that absorb nutrients and degrade from a substrate, like cellulose, organic debris, wood, and almost any kind of carbon that contain material involving the human skin. Once the nutrition is obtained, the hyphae grow into mycelium, the main body of fungus that is visible.
Spore Formation: it is the spores created on the ends of hyphal cells. The spore formation is dependent on different environmental factors involving oxygen levels, light, temperature, and the available nutrients.
Spore Dispersal: once the spores are created, it is freed into the air and transported elsewhere to start the germination process and growth again. The mold spores are very durable and resistant, as they can be dormant for numerous years in both hot and dry surroundings.
Spore Germination: After the spores are dispersed towards a new place and when the right conditions exist, nutrient availability and moisture, the spore will start to germinate into new hyphael cell.
As soon as the process begins, mold will grow very fast. Mold can grow within 24-48 hours after given the right conditions to live in. It is hard to believe that a small mold spore can be responsible for such large mold colonies. If mold is left untreated, it can be responsible for serious damages to your property, therefore upon first signs of mold growth, it is required to call a professional mold remediation company.
Tips for Mold Prevention
After the mold removal process, focus on preventing future mold problems. The key to stopping mold and mildew is controlling moisture. The worst causes of mold growth are damp conditions, leakage and poor drainage in attics, crawl spaces, walls, and basements. To prevent this, we highly recommend regular inspections for leakage, proper ventilation, keeping crawl spaces dry, check for exhaust vents going into the attic and routing water away from the foundation.
Mold growth does not necessarily affect indoor air quality. But if left unexamined, it can cause allergies and worsen asthma symptoms, moreover, it can damage the surface its growing on that leads to the structural damage, which can cost you thousands of dollars on repair.
Mold can be of any color white, spotted, green, blue, or black that can appear powdery or velvety. If you find traces of mold growing in your home, it's always a good idea to call a mold removal inspector. Especially if you clean it up and it keeps recurring, as it may be a sign of a bigger mold or moisture problem that is not just restricted to just one location.
Hiring the Right Mold Removal Company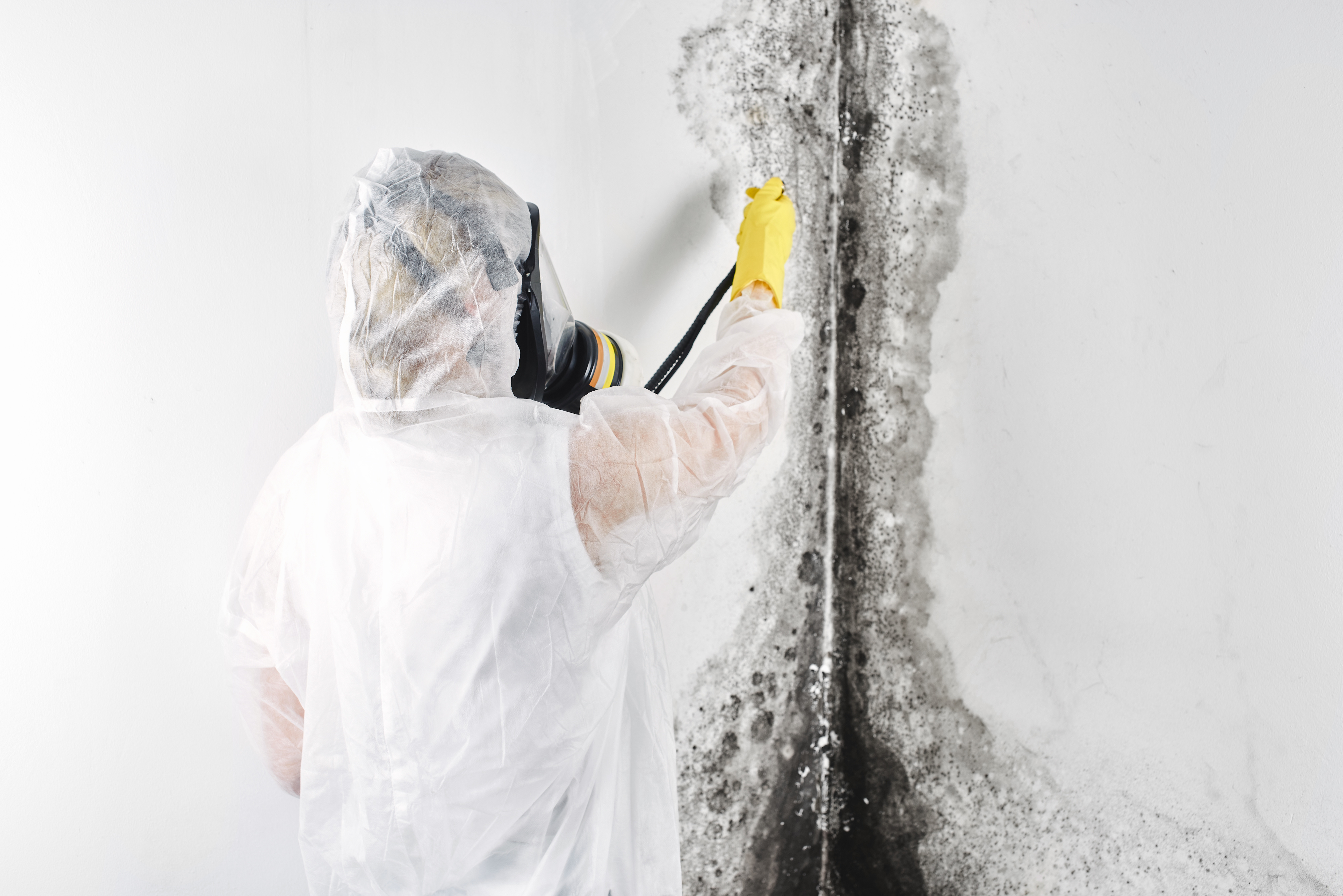 Mold removal is the only thing that will be able to help you in making your home free from mold. Removal of mold needs to be performed by a licensed firm. A firm must be experienced and trained, and follow strict guidelines for removing mold. Insurance for this is necessary, and not many companies are acquiring such insurance, so ensure whichever company you hire is able to provide you this information.
Not all home inspectors are trained in inspecting and determining mold; the same goes for general contractors. If your home inspector or contractor thinks they have found mold, contact a professional mold removal company in Toronto or in your nearby location. Canada's Restoration Services can help you identify if mold exists and properly quote and scope on safe mold removal in Toronto and all the major cities surrounding Toronto, Ottawa, Montreal, Edmonton, Calgary, and Vancouver.
When a mold inspection is being performed and the scope of work is not clear or bigger than what has been anticipated, then the involvement of a third party environmentalist may be necessary. Mold testing or air sampling is also necessary when determining if the mold spores have spread to other areas of your indoor environment. This is extremely important as it can identify if the air quality in your home is healthy for you and your loved ones. Molds are microscopic and without performing air testing, it would be impossible to determine whether there are any unwanted mold spores in your home. A third party hygienist/ environmentalist is needed to perform the air quality testing and make a detailed report with the scope of work that is needed to follow. The company provided the mold removal service should not be performing the test as this becomes a conflict of interest. The report provided by the 3rd party will give the following information:
The levels of mold within your controlled environment (usually taken outside your property).
What types of mold are present in the areas of concern
The levels of mold that are present in the areas of concern
Which areas are elevated
Scope of work required to remediate and remove of the elevated mold
There are various factors influencing the process of mold remediation and mold removal. Factors such as the type of mold, contamination degree, presence of the compromised people and the area of your house in which the growth exists. These are defining how the process of mold removal must be carried out. Mold remediation is classified under three conditions: Levels 1, 2 and 3.
Condition 1 : Non-Visible Mold – Standard / Normal
Condition 2 : Non-Visible Mold - elevated
Condition 3 : Visible Mold – elevated
Once the detailed report has been provided to you, homeowners must contact a professional mold removal company in Toronto or in their nearby area, to bring their property back to a healthy, mold-free home.
Mold Removal in Vancouver
Heavy rain, humidity, and moisture are not at all uncommon on Canada's west coast. Leaks, rainfall, roof damage and other seemingly minor property issues can result in mold outbreaks. Water damage restoration in Vancouver is a great way to prevent mold outbreaks before they impact air quality, structural integrity, and home comfort. Canada's Restoration Services is equipped with tools, training, and high-level industry certification for effective emergency water damage restoration services and comprehensive mold inspections in Vancouver to identify lurking mould outbreaks and for water damage repair and clean up in residential and commercial properties. Using 3rd party lab testing, we can quickly identify mold species and determine whether or not black mold in Vancouver is toxic or not. Following safe processes and industry best practices, you can count on the Canada's Restoration Services team for professional and complete mold removal in Vancouver and Canada's other major cities.
Learn more about Mold Removal
CANADA'S RESTORATION SERVICES - Toronto Mold Removal
1 Dove Hawk Way, North York, Toronto, ON M2R 3M1

Old Toronto
Downtown Toronto
East York
North York
Etobicoke
Scarborough
York Region