Attic Mold Removal in Toronto, Ottawa, Montreal and Edmonton
Finding mold in your home or business can be scary and frustrating. Mold is a type of fungus that is formed through a few key ingredients, including moisture, a surface to grow on, and a lack of air ventilation. Attic mold is a typical place to discover mold and can be remediated with the help of Canada's Restoration Services. Our professional mold removal company has been conducting mold inspections in attics and performing attic mold removal for over 15 years.

Book your free mold inspection today
1-888-551-0514
Removing mold is a tough job, but we have the right technology, training, and expertise to get the job done right. Our mold removal services, including mold testing and mold remediation, are available for residential and commercial properties.
We guarantee to remove mold in the fastest and most professional manner. We use HEPA vacuums and HEPA filtration systems to remove mold spores, dust, and allergens during mold removal.
Black mold, also called toxic black mold, can be commonly found in your home's attic. Improper venting, along with water damage, such as roof leaks, pipe leaks, and storms, can be the main cause of mold in your home. Mold can cause health problems in your family, including coughing, discomfort, sneezing, headaches, and congestion.
We advise all homeowners and business owners to contact Canada's Restoration Services if they suspect they have mold. Not all mold is visible and can be confirmed with an air quality test. An air quality test is not required on visible mold, but we highly recommend conducting air quality tests for other home areas to test for any mold spores that may have formed through cross-contamination. We do not perform air quality testing and utilize third-party testing by an accredited air quality testing company. Homeowners and business owners should steer clear of companies who perform air quality testing and mold removal services, as this does indicate a conflict of interest which may lead to deceitful results.
MOLD IN THE ATTIC COST
The cost of mold removal varies on three factors:
where the mold is located

the amount of mold there is

how far the mold extends
The type of mold identified does not impact the price. Be wary of companies that claim that different types of mold require additional costs. At Canada's Restoration Services, we provide nationwide and local pricing to all our valued customers. Our experts are equipped with state of the art equipment and the latest technology to ensure that your home is 100% cleared of mold.
Having the proper equipment is essential to ensuring that the mold is fully removed in a quick and timely matter. In addition, following our Some of the equipment we utilize are:
GETTING RID OF MOLD
In order to physically remove mold, our mold removal professionals either blast the mold off by "media blasting", which consists of Soda Blasting or Dry Ice Blasting. Furthermore, our mold experts can also remove mold by grinding the mold off or applying a mold removal agent. This procedure is only followed when a small attic area is impacted.
Be careful. Some companies will offer to sell or cover the mold with paint. It is imperative that you run away from these companies, as this is a temporary method to cover up the mold and acts as a "bandaid". The mold will still remain and cause respiratory problems and health issues.
Over time, dust and dirt will create a layer over top of the paint or sealant and mold will continue to form on top.
Other forms of improper attic mold removal are:
Fogging -

Dead spores can release toxins, and once there is a new source of moisture, the spores can become visible again. The spores need to actually be removed and a HEPA vacuum of the affected area is necessary for this to happen.

Insulation -

This falls under the encapsulation or covering and only acts as a temporary cover-up.
SPEAK TO A MOLD REMOVAL EXPERT
1-888-551-0514
Mold Removal From Attic & Crawlspace
Mold is fine, furry growth of fungi on decaying matter or objects that are left on moist warm air. An attic on the other hand refers to the space or room below the roof of a house. In Toronto, molds are known to halt the sale of a house, as most owners do not inspect the presence of molds until that time when building inspectors actually come in to check out the house. This has been known to cause lots of distress as it leads to costly delays that otherwise would have been avoided all the same with frequent inspections of molds within the attic. Before discussing mold removal in attics, it is important to find out some of the causes of these molds.
Most molds in attics are caused by leakages that at times have not been discovered over a period of time. They could be in the roof or chimney. At other times, soffits that are not properly ventilated or blocked by insulation may be a cause of molds. The absence of ridge or vent along the length of the roof can contribute to the presence of molds. Bathrooms are known to have exhausted venting that stretch into the attic. During the escape of moisture from the bathroom, it hits the sheathing, which eventually comes into contact with cold air from outside thereby causing condensation, which creates mold optimal conditions. All these conditions need careful planning for effective mold removal in attics.
Of course, the best remedy for all these problems is prevention. It is important for house owners to make regular inspections of houses. As much as time is limited, routine checks to see if all the ventilators are functional, and replacing any insulators with defects is important. Because one may strive to remove the molds, but if the conditions that necessitate them are not addressed, all the removal processes become useless. Secondly, use attic mold multi-treatment process to remove mold. Try to contain the molds by using 6 ml poly Plastics. Vacuum all the surfaces before applying biocide to prevent any future growth of molds. Finally supply all the rooms with negative air to avoid contamination from spreading. This will ensure the efficient mold removal from attics.
When mold is found in your attic or crawlspace, it's important to get it cleaned up. Mold in those areas can lead to serious health problems and need to be dealt with right away.
Prevent health issues
Mold is a severe health risk. It can cause allergic reactions, headaches, and even respiratory problems. Avoid the risks by hiring a professional mold removal company in Toronto certified in mold removal and remediation.
Quick and effective mold removal
With over 20 years of experience, we offer effective mold removal services that are fast and remove the mold entirely.
Complete Attic mold removal services
Our mold removal experts will inspect your attic and determine the best course of action to remove the mold safely and effectively.
Safe for the environment
For all our mold removal in Toronto, we'll use a HEPA air filtration system and biocide to ensure that there is no mold left in your attic.
PROCEDURE TO REMOVE MOLD IN ATTIC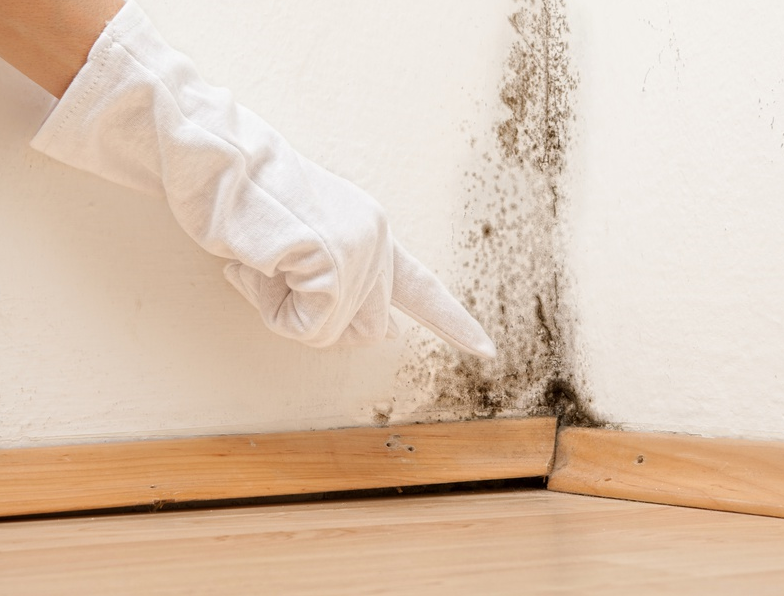 1. Mold Inspection: A mold inspection is conducted by a mold inspector that is IICRC certified, highly trained, and considered a mold expert. Thermal imaging is necessary to do a proper and thorough inspection, moisture meters and hygrometers may also be needed.
2. Identify the source: The mold specialist will identify why the mold has grown. Most typical mold sources in the attic are improper ventilation and insulation as well as roof leaks.
3. Proper containment needs to be set up as well as negative air machines that need to be installed. This seals off the attic and prevents the mold from spreading to the rest of your home.
4. Media Blasting can now be performed, either by soda blasting or dry ice blasting. This is the only effective way to remove mold from your attic and will get into all of the nooks and crevices that otherwise would never be reached.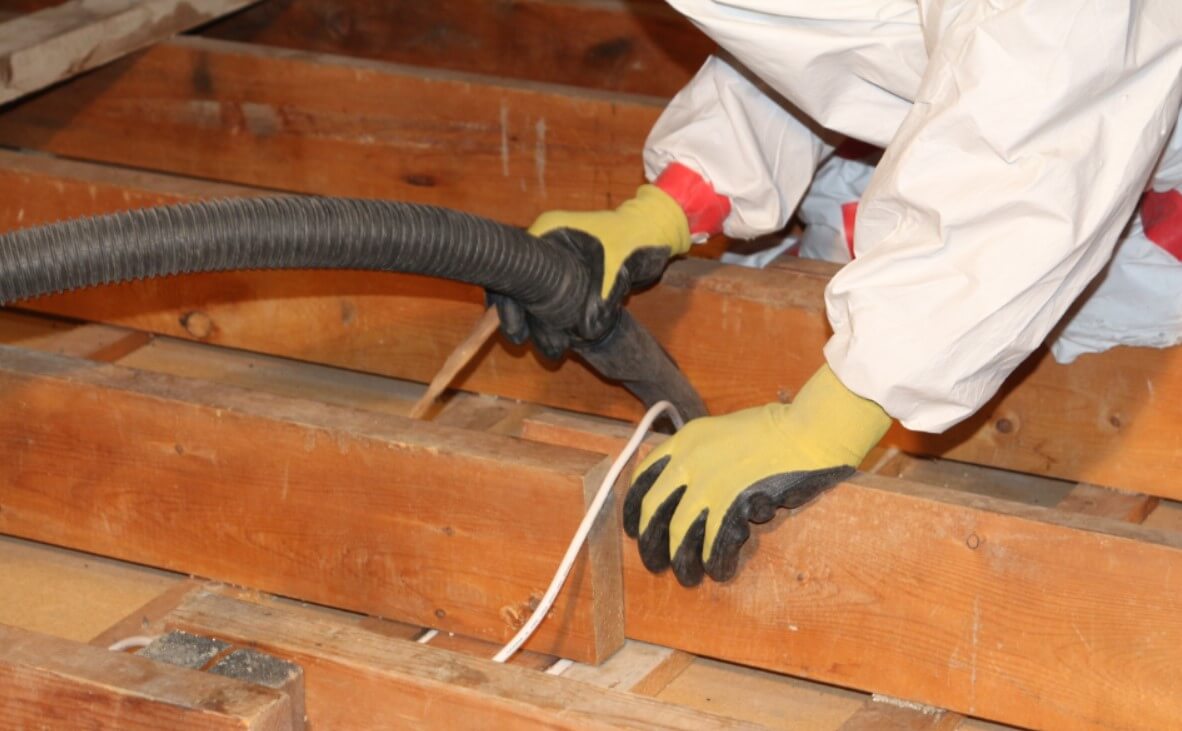 5. Hepa Sandwich is the only way to effectively remove all of the mold spores. This is done by HEPA vacuuming your attic, then cleaning, and then HEPA vacuuming again. This may need to be done several times throughout the entire process. Air scrubbers and negative air machines need to be running which will also aid in the removal of the mold spores.
6. Insulation Removal. Once all the mold has been removed from the attic, the contaminated insulation needs to be removed.
7. Insulation Replacement and Ventilation. Now that the attic is emptied out, proper ventilation can be installed and new, fresh installation can be blown in.
8. Final Fogging. A final fogging of the attic will be complete to provide a final sealant. Once this is complete all equipment and containments will be removed.
We follow IICRC guidelines when performing mold removal services. Our highly trained experts perform a strict step-by-step procedure to ensure that there is no cross-contamination and that the mold is fully removed. Once these 8 steps have been completed,

Canada's Restoration Services

can provide you with a guarantee that the mold has been effectively removed and will not return, as long as a new source is not created, causing new mold growth.
Whether it's a flood or a mold cleanup emergency, CRS is ready to serve you 24/7. With emergency services available 7 days a week, you'll never have to worry about being left in the dark.
BOOK YOUR FREE INSPECTION TODAY
1-888-551-0514