Attic Mold Removal
Trust your Local Mold Removal Experts!
Call us today for a FREE Mold Inspection 1-888-551-014

We give up to 25 year warranty for mold removal and remediation (in attics) if allowed to perform the protocol and procedures as well as working with a trusted insulation removal company.
It is extremely important to not only remove the mold in the attic, but fix the source as well. If the source is not fixed, the mold will return. Upon our invasive inspection, we will help determine the source of the mold as well as assist in fixing it!
We pride ourselves in only doing things right, which is why we remove mold in the attic by media blasting. According to the 5 principles of mold remediation set by the IICRC Guidlines, mold must be physically removed and not encapsulted or painted. This is not only the the right procedure, but will not raise red flags to Home Inspectors like the paint process will. As you can see below, the result is amazing- the attic area looks brandnew!
Give us a call today to schedule your FREE attic mold inspection Today. We will provide you with a detailed scope of work, estimate, and if the work is performed, you can receive up to a 25 year transferrable warranty!
Due to the rapid changing temperatures across Canada, mold in the attic has become more and more common. When temperatures flucate, condensation buildup will occur in the attic which can then lead to mold growth. Mold needs an organic substance that is wet to grow on, which is exactly what condensation in the attic provides. Since the attic is not a place we are typically in, we do not pay particular attention to it. The attic should be checked at least once a year to ensure that there are no issues arising.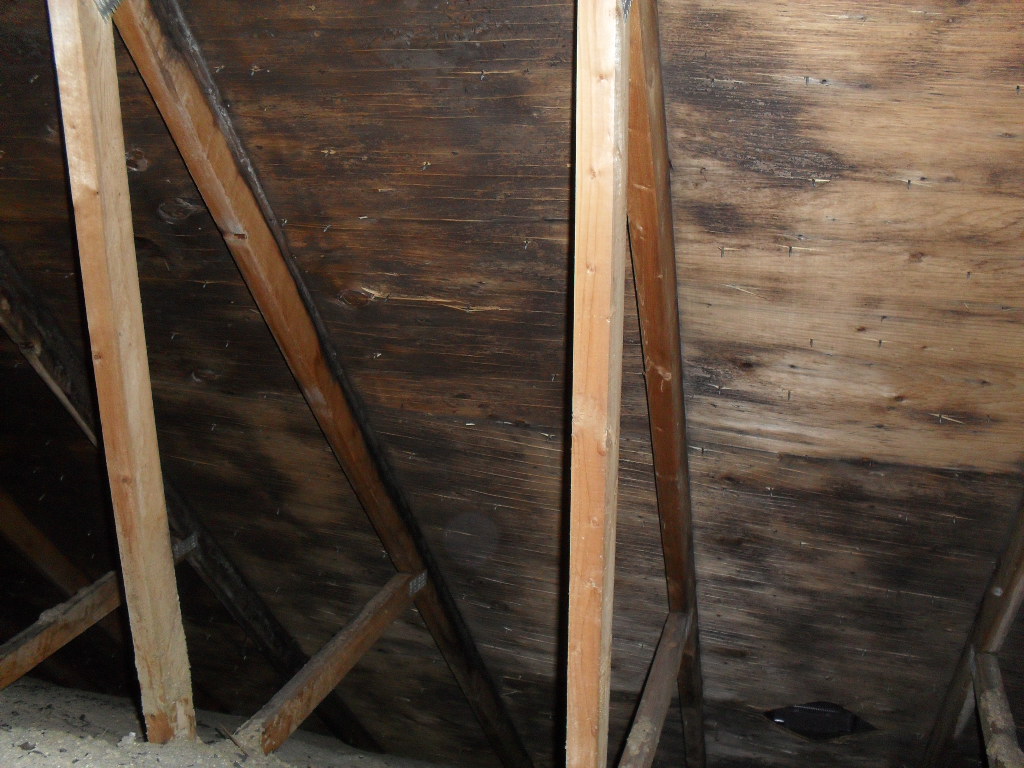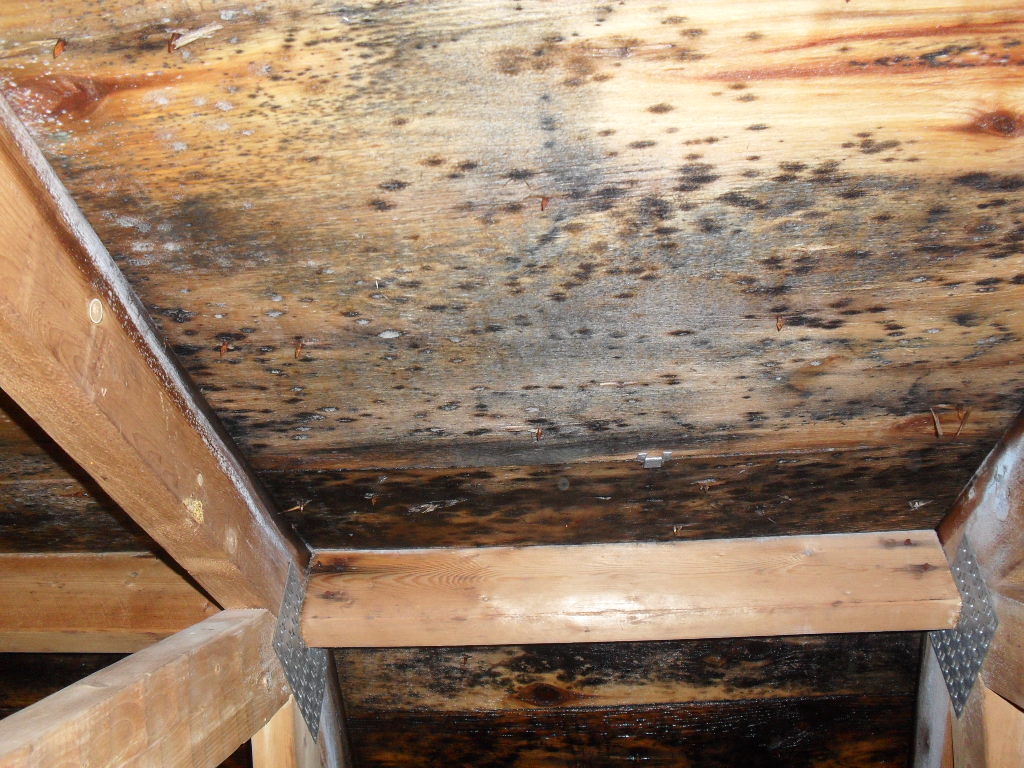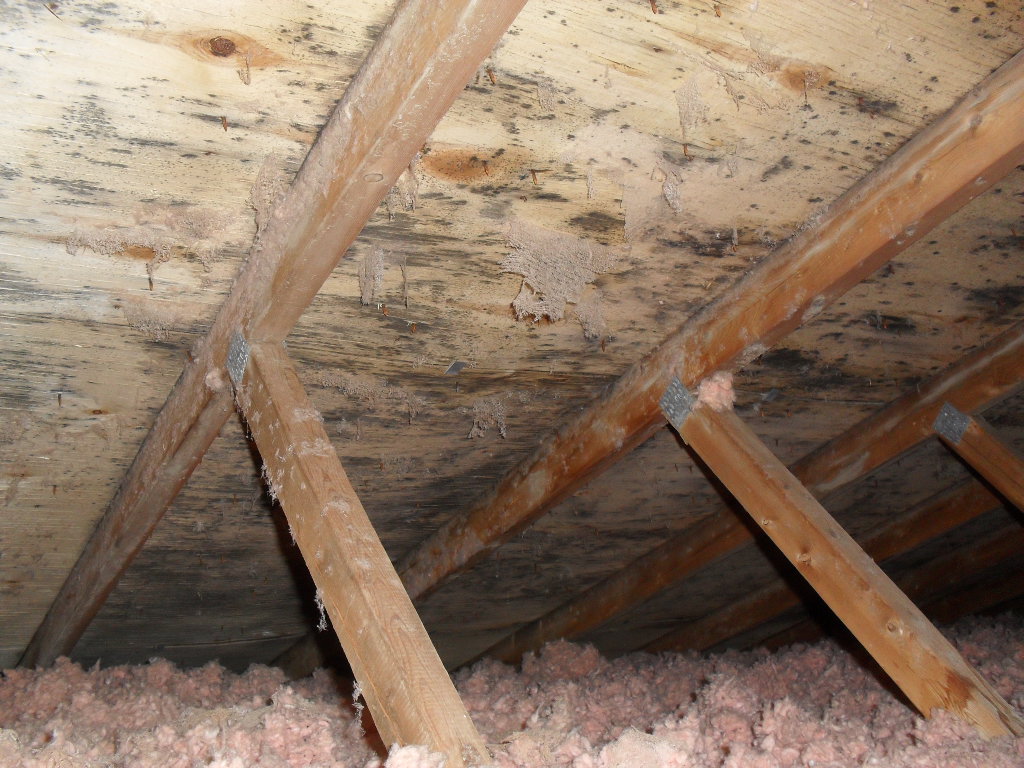 Attic conditions such as humidity, wood sheeting, and often a lack of sufficient air flow, provide a comfortable environment for mold to grow.
What is the source of mold? Why have you got mould in the attic? Canada's Restoration Services will be sure to inform you exactly what is causing it.
Possible causes of mold in the attic are:
Lack of ventilation in the attic,
Too much or too little insulation in the attic,
Bathroom fan not connected, not insulated,
Roof leaks
There are many companies that treat mold, but the question you need to ask is: Do they know how to properly perform the following mold removal services and guarantee that mold will not return? Do they give warranty?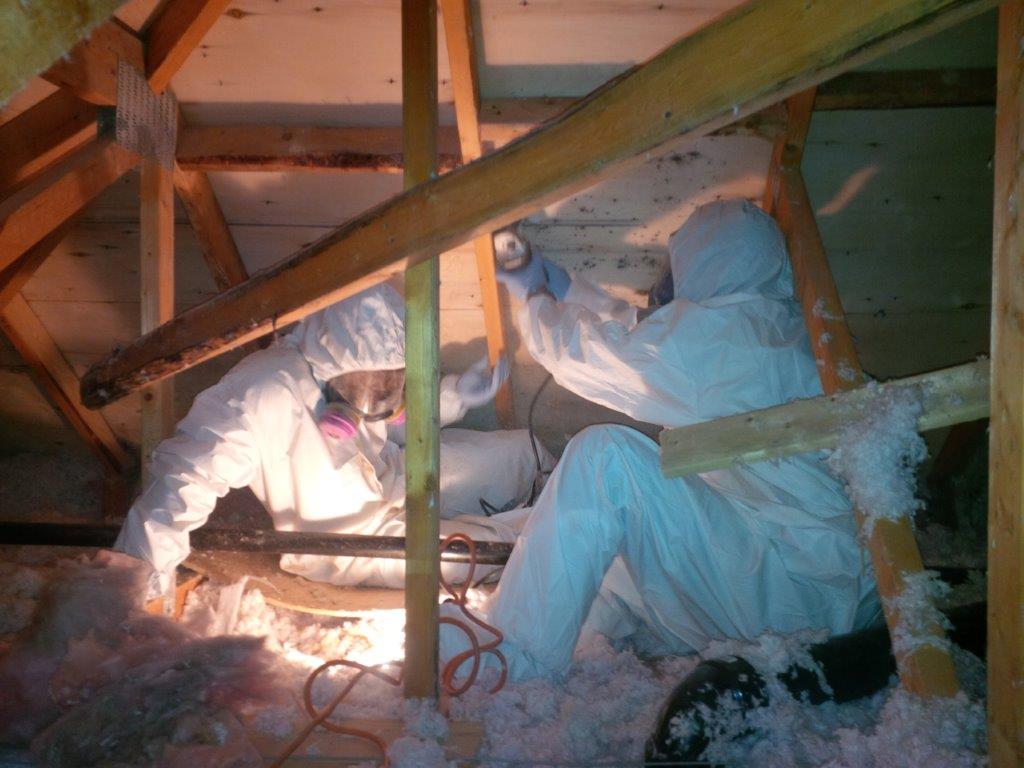 Here is part of our protocol that we follow it has proven itself over and over again:
We start by containing the area.
Protect the furniture and floors that are in close proximity of access to the attic.
Media blasting – ice blasting or soda blasting - the best proven method to REMOVE Mold in the attic.
Replace the insulation if needed.
Fix the problem that caused the Mold.
SEAL the attic – the attic should not be part of the building envelope, it should be sealed off completely with no air flow to and from the house, and this prevents Mold from growing again.
Call Canada's Restoration Services for a free Mold Inspection in your attic as well as mold in your home. Our certified inspectors and project managers will guide you on how to REMOVE AND REMEDIATE THE MOLD IN YOUR ATTIC.
CALL us today to book your FREE visible attic mold inspection.
Press Play below to see our process on Mold Removal in Attics: