What Causes Flooded Basements in the Greater Toronto Area
Posted in Flood & Water Damage, on August 03, 2023
---
Here in Canada, we experience all kinds of weather conditions, from scorching hot summers to torrential snowfall. In many cases, these conditions can affect the state of our home, from the temperature to the moisture. There is a fair chance that rain and snow can end up causing a flooded basement stemming from the lack of correct insulation. Canada's Restoration Services can provide flood cleanup services to get your home dry and clean of any mess.
As a company that ensures all employees are trained, WSIB Insured and IICRC-certified to provide the best care for your home. If you seek water damage in Toronto, don't hesitate to call Canada's Restoration Services.
Learn more about the common causes of flooded basements in the GTA.
Weather Conditions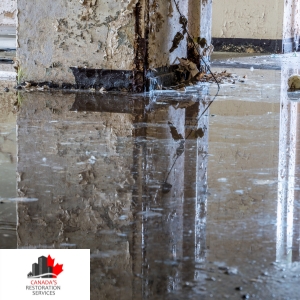 Often when it rains, the water collects in a communal sewer, which can be backed up due to the overflow. This leaves the water to begin to flow in areas it's not supposed to, eventually causing potential flooding in the streets and eventually into properties. A flooded basement can also be caused by poor insulation. Excessive rainwater gives a clear route for water to enter the home when there are holes in the insulation.
This is where it is essential that you waterproof your home and check your home insulation; to prevent big messes like water damage in Toronto from flooding.
Leaking Pipes
Plumbing systems typically run through the basement of a home. It's very common for leaks to occur, especially if you have faulty plumbing. If left unvisited, it can eventually lead to severe damage from flooding. This can also happen if you are rarely in your basement. Pipes carry a significant amount of water throughout the home, which can be enough to cause a heavily flooded basement. Be sure to perform an inspection on your plumbing system every so often to prevent flooding, significant damage, and the need for flood cleanup services.
Poor Drainage
Houses in the same neighbourhood connect to the same sewer. When it rains out, the water often builds up and creates a backup in the sewers, causing poor drainage. Other causes of poor drainage can include:
Clogged gutters and downspouts
Insufficient outdoor drainage
Saturated soil
Inadequate waterproofing
A sump pump is a crucial component when it comes to basement draining. This device is specifically designed to move water from out of your basement. It prevents water levels from rising. If the sump pump malfunctions, it can promote rising water levels in torrential rainfall. However, many new houses are required to have a functioning sump pump.
Flooded Basement Remediation with Canada's Restoration Services
Once you notice a flood, there's bound to be water damage, depending on how long the water has been there. Water damage typically occurs within 24 hours of the flood, and mold can take 24-48 hours. It's essential to seek help from a professional as soon as possible, as water damage prevention is very time sensitive. Canada's Restoration Services is equipped with knowledgeable and trained professionals to get your home back to normal with water damage restoration and mold removal in Toronto. Contact us today for all things home restoration.