Waterproofing Measures to Protect Your Property from Water Damage
Posted in Flood & Water Damage, on September 22, 2023
---
A flooded basement can send property owners into disarray. Because water damage in Toronto is a time-sensitive issue that can have dire consequences, it's helpful to have preventative measures in place to mitigate the occurrence of floods and leaks. When water damage happens, from flooded basements to foundation leaks, contact the IICRC-certified specialists at Canada's Restoration Services for flood cleanup services. Our team provides expert water damage restoration and mold removal in Toronto to reverse the impact of flooding.
Here are the best ways you can minimize water damage in your home or business.
Seal Cracks & Openings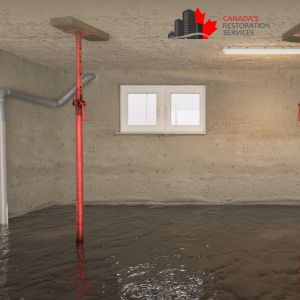 Besides burst pipes and overflowing appliances, one of the most common causes of water damage in Toronto is foundation leaks or cracks in the exterior walls of your property. During heavy rainfall or snow melt, openings in the exterior enable water intrusion, which can compromise interior elements of the property, from your furniture to your building materials. As water leaks go unnoticed, they trigger mold infestation, at which point you will need water damage and mold removal in Toronto. For at-home waterproofing, you can use exterior sealing caulk rated for outdoor use, or for large gaps, opt for a plastic foam filler.
Sump Pump Installation
One of the most troubling causes of a flooded basement is sewage backups, which don't just cause water damage; they also introduce sewage back into the basement. When there is sewage backing up into your basement, it's never safe to attempt restoration without the support of professional flood cleanup services. When you call Canada's Restoration Services, our water damage restoration specialists are dispatched immediately and respond in just 45 minutes.
Installing a sump pump can facilitate the removal immediately. The automated mechanism empties flood water outside of the property. However, in some cases, sump pumps can fail, and water removal is just the first step to restoration; for complete and thorough remediation, contact Canada's Restoration Services. Using industrial dryers and advanced HEPA filtration systems, we will quickly get your basement cleaned out.
Pay Attention to Your Attic
The attic is a common source of mold infestations in the home because of its susceptibility to moisture from leaks in the roof. If you are experiencing signs of mold around your property, from strong odours or changes in your energy efficiency, you may have leaks in your attic. A wet attic, just like a wet basement, can lead to compromised indoor air quality and indoor comfort. If you suspect signs of water damage in your attic, contact Canada's Restoration Services. If attic leaks are not addressed in a timely manner, you'll likely have a widespread mold problem.
Why Water Damage Prevention & Cleanup
Water damage can come out of nowhere, so taking preventative steps and fine-tuning your response is critical to the health of your building materials, structural integrity, and preventing mold outbreaks. Choose the leaders in water damage restoration and mold removal in Toronto at Canada's Restoration Services for all your restoration needs.