Safe Asbestos Disposal Tips in Montreal
Posted in Asbestos Removal, on July 23, 2021
---
Asbestos was widely used in construction not long ago for its favourable physical qualities (heat, electricity and fire-resistance, soundproofing). Today we know that exposure to this mineral can cause severe health issues, and asbestos is now defined as a hazardous substance that is banned in Canada. However, this doesn't mean that Montreal homes are asbestos-free. Many house and commercial properties still contain this material and require asbestos testing in Montreal, especially if renovation activities are in the plan. It helps to conduct asbestos testing in your home before the removal process to know what you're dealing with and ensure the abatement is done correctly. DIY asbestos tests often deliver low-quality results, while DIY removal is extremely risky, so it's best to seek the help of an expert.
The certified team of expert asbestos technicians at CRS is always ready to provide quality inspections, testing, and ultimately asbestos removal in Montreal to help you eliminate this hazardous material safely.
Removing Asbestos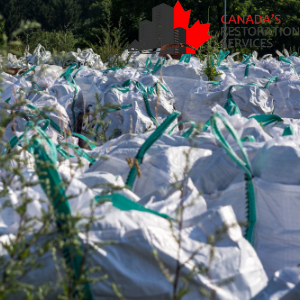 Once asbestos testing in Montreal is completed, lab results reveal the levels of asbestos and its critical sources in the home. This allows for removal to be adequately planned and prepared. The inspectors will isolate and secure the abatement area and choose the optimal removal method according to the situation. When the process is finished, they will pack the removed materials into thick nylon bags and seal them tightly. This is done to contain the asbestos microfibrils and prevent their spread. The bags must be marked to identify the harmful contents.
All that is left now is to dispose of the bags. However, hazardous materials like asbestos cannot be simply thrown out with other waste. They must be taken to a specialized landfill, qualified to handle such materials.
Neither asbestos removal in Montreal nor asbestos disposal should be something you handle yourself. To ensure it's done safely and effectively, call a trusted professional like the Canada's Restoration Services team. We act fast to keep your space healthy and safe.
Transporting Asbestos Waste
Before the asbestos waste materials are taken to a landfill, it is necessary to ensure that the transportation process is done according to the Ministère des Transports du Québec's Transportation of Dangerous Substances Regulation. Hazardous materials often require transportation by a company with a special dangerous substances licence that qualifies them to safely transport the materials from your home to the specialized landfill.
Certified Disposal Site
As we mentioned a bit earlier, regular landfills do not accept asbestos or any other hazardous material, which is why the removed materials need to be sent to a landfill that is authorized to receive them. In the landfill, the waste will be adequately separated and processed. Once the non-hazardous fraction is separated from asbestos, it is recycled, taken to a regular landfill, or used otherwise. The remaining asbestos is destroyed or converted to a non-hazardous form, removing the dangerous material entirely.
If you're unfamiliar with the disposal of asbestos, there's a good reason – asbestos removal, and asbestos testing in Montreal should only be handled by professionals who are equipped to do it safely. It is best to leave the entire process to the experts and hire a trusted company for asbestos removal in Montreal. Call the team at Canada's Restoration Services - we'll remove asbestos for you, transport it safely and ensure it goes to the right place. Our certified staff is always ready to provide quality service and make sure your home is asbestos-free.
Contact us to book your inspection today!