How to Properly Test for Asbestos
Whether it's a residential home or a commercial building, discovering asbestos can be a serious concern. And because there are inherent health hazards, asbestos-laden materials must be properly remediated. For asbestos testing in Montreal, property owners can rely on Canada's Restoration Services for the most professional approach.
CRS also provides asbestos inspection in Montreal with a team of highly trained and certified technicians. We specialize in asbestos removal and remediation, offering a comprehensive approach that delivers guaranteed results. This is certainly not the right time for a DIY project – asbestos removal should be completed by the experts.

Book your free asbestos inspection today
1-888-551-0514
Asbestos Testing in Montreal
When it comes to asbestos testing and removal, it's important to carefully choose a contractor. At Canada's Restoration Services, our technicians follow administered guidelines and subscribe to the strictest safety protocols. We also ensure that there's no cross-contamination in the property so that residents and/or individuals are not exposed to the harmful effects of asbestos.
For asbestos inspection in Montreal, CRS undertakes a complete assessment of the property, and provides testing samples to a third party laboratory. This is a mandatory part of the process, allowing for the verification of the asbestos materials. When asbestos removal is complete, our customer receives a certificate of work performed (transferable to future owners).
Asbestos removal and remediation is complex work – it must always be done professionally from end to end, and always by vetted technicians. Most importantly, safety precautions must be exhaustive in order to protect everyone from asbestos fibers. Those who own the property or currently occupy it should not perform asbestos removal as a DIY project – the health dangers and hazards are too much of a risk.
A Comprehensive Approach to Inspection, Testing, and Removal
At Canada's Restoration Services, technicians provide a step-by-step approach to asbestos inspection, testing, and removal. We inspect the entire property (residential or commercial), including insulation parts, plumbing materials, ventilation, and HVAC components.
Inspection Process: During the inspection, we provide asbestos samples to a 3rd party laboratory for verification
Work Description: Our technicians define a Scope of Work and follow a step-by-step method to completion
Full Containment: We contain the area using industrial negative air machines and air scrubbing machines
Removal Procedure: Our experienced staff remove all remnants of asbestos and dispose of waste material
Cleaning Up Step: We make every effort to effectively eliminate residual asbestos, fiber, and dust particles
Project Clearance: CRS provides formal clearances on every piece of work performed (from an independent third party)
How to Know if There is Asbestos in Your Home or Commercial Property?
Asbestos was used frequently in building construction until the 1990s especially before the 1980s. This was before the dangers of the mineral were widely understood. It was used in many applications: loose fill to sprayed coatings and came in various colours depending on the type of asbestos. As a result there is no telltale sign that asbestos is present, that's why it's best to always get a professional asbestos inspection before moving into a new property and especially before beginning structural renovations or demolitions.
There is definitive sign that indicates that asbestos is definitely present. Unfortunately without the professional support of a trained asbestos professional it's incredibly difficult to identify and confirm its presence without professional asbestos testing in Montreal. If you think asbestos is present in your immediate vicinity, the most safe and effective course of action is to find a local and trusted asbestos removal service in Montreal to inspect, test, and remove any asbestos before it becomes dangerous.
Applications Where Asbestos is Commonly Uncovered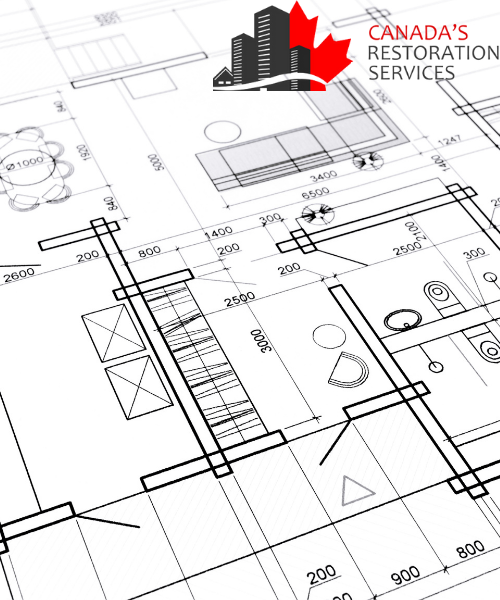 Asbestos was banned in Canada in 2018 and while some uses are still permitted, it's most likely that you will encounter asbestos at home, if your home was built prior to the 1980s. However it's always better to be safe than sorry. So, if you need to do work in any of these areas, call Canada's Restoration for complete and thorough asbestos testing services in Montreal.
Drywall
Popcorn Ceilings
Plumbing
HVAC Systems
Floor Tiles
Ceiling Tiles
Roof Shingles
Textured Paints
Insuations
& More
When Does Asbestos Become Dangerous?
Untouched or undisturbed, asbestos is not immediately dangerous, but it can become a hazard very quickly. If asbestos is cut, torn, wet or disturbed in any way, its fibres can quickly be released into the air. Once airborne, asbestos fibres continue to divide until they're microscopic and can be inhaled. Repeat exposure to asbestos fibres can significantly increase the potential for long-term illness.
If you notice asbestos that has been damaged, either by being cut, hit, torn, or wet, vacate the area immediately and call for asbestos testing in Montreal. Once asbestos is confirmed, stay away from the area. If you have to be around asbestos it's imperative that you are equipped with full protective gear from respiratory protection to an asbestos resistant suit and gloves. If you're not sure what to do when you encounter asbestos, call a professional for removal right away.
Why Choose Canada's Restoration Service For Asbestos Testing in Montreal?
At Canada's Restoration Service, we take your asbestos removal and testing seriously. We respond quickly to calls for asbestos testing in Montreal. We send out samples to 3rd party labs for unbiased and prompt testing and quickly move on to asbestos removal. We prioritize safety and speed, our team of technicians are IICRC certified, equipped with years of experience and industry expertise.
To ensure our customers can afford removal and asbestos testing services in Montreal are accessible to anyone who needs asbestos removal in the city, we offer affordable pricing that starts at $500. We also offer financing options and a variety of flexible payment options so that your space can be asbestos free no matter the cost.
For Expert Asbestos Testing in Montreal Count on Canada's Restoration Services
At Canada's Restoration Services, in-house technicians are IICRC certified and experienced in all aspects of asbestos abatement. Whether the project is residential or commercial, we make every effort to deliver 100% customer satisfaction. CRS provides expert asbestos inspection in Montreal as the first step to removal and remediation.
For customers who require immediate attention, CRS can provide service around-the-clock. Learn more by calling 1-888-551-0514 directly, or request a FREE project estimate online.