How to Stay Calm When Your Basement Floods
Posted in Flood & Water Damage, on August 02, 2022
---
As you notice water rushing into your space and you quickly realize that you're in need of flooded basement cleanup, it's likely that panic will set in. While a flooded basement is an extremely stressful experience, the stress and worry can be minimized with the right processes and the right restoration company on your side. With flood restoration services on-site, you can get through flooded basement cleanup seamlessly. When you call Canada's Restoration Services, you can be confident that you're in good hands and that your basement will be thoroughly restored with care and expertise.
Here's a guide on staying calm when your basement floods.
First and Foremost: Call a Professional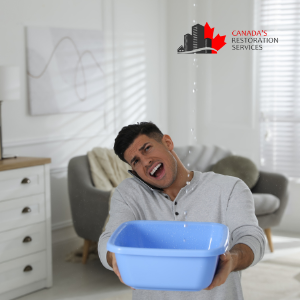 Speed is imperative when it comes to water damage and flooded basement cleanup. When you contact Canada's Restoration Services, we will dispatch technicians to your property who will arrive within 45 minutes in the Greater Toronto Area to begin flood restoration services. It's essential that water in your basement does not sit for a long time; the longer it is left, the more bacteria will infiltrate your home, and the more extensive the damage will be. Unrestored water damage will result in excessive mold outbreaks and structural damage. To avoid this and limit the situation's stress, don't hesitate and contact Canada's Restoration Services.
Clear the Area
If it's safe, clear people out from the affected area. Make sure that no one in your property touches any standing water, especially bare hands or feet. If this water has been in contact with bare skin, the contaminants in the water, especially if it was a result of sewage backup, may lead to infections and illnesses. While tempting, you should leave any affected items alone to guarantee your health and safety. Don't try and clean up the flood yourself; leave it to the professionals.
Avoid Electrical Damage
It goes without saying that electricity and water don't mix well. If it's safe, unplug any electrical equipment, like computers, refrigerators, washing machines, or dryers. If you cannot unplug these appliances manually, turn off the power from your fuse box to avoid electrical damage.
A flooded basement is unexpected, so restoration services aren't in anyone's budget. At Canada's Restoration Services, we understand that our flood restoration services and flooded basement cleanup services may not fit into your financial plan.
Insurance Communications
Communicating with your insurance provider and ensuring that flood restoration services will be covered will provide peace of mind and security. Canada's Restoration Services works with all major insurance companies throughout the country, and we'll thoroughly communicate with your company. When a flooded basement is caused by a natural disaster or if it's no fault of your own, flooded basement cleanup is covered by insurance.
Work with Canada's Restoration Services
To stay calm during a flood, look no further than Canada's Restoration Services. From your initial phone call to the last steps of the restoration process, we'll work with you to guarantee you're satisfied and stress-free.