How to Prevent Basement Flooding in the Spring
Posted in Flood & Water Damage, on March 31, 2022
---
Spring is well underway, which spells frequent rain and an influx of runoff water due to melted snow brought on by warm temperatures. All this water could be overwhelming for your home's infrastructure. The risk of your basement flooding is a real threat that you should consider, especially if you have a lot of snow accumulation around your home.
If you need flood restoration services in Toronto due to spring flooding, contact Canada's Restoration Services now to arrange for flooded basement cleanup in Toronto. There are, however, several preventive measures that you can take to avoid having to deal with such an issue. This blog will outline the causes of spring flooding and how you can mitigate its threats.
What Causes Flooded Basements in Spring?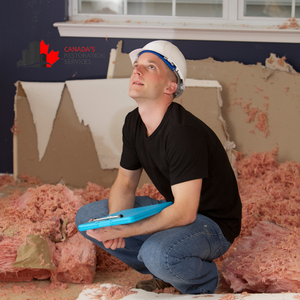 Basement flooding brought on by spring rain and melted snow can expose your home's infrastructure problems.
Common causes of such flooding include:
A blocked or poor drainage system.
Cracks in your basement walls or your home's foundation.
A failure in your home's sump pump.
How To Prevent Spring Flooding in Your Basement
As you move from winter to spring, you can take a few preventative measures to avoid the stressful situation of a flooded basement and the ensuing water damage repair bills. The best measure you can take is to remove the snow surrounding your home. Shovelling all that accumulated snow away from your home will reduce the level of water that can seep into your basement. Cracks in your basement walls or your home's foundation should be repaired immediately. While shovelling snow away from your basement windows helps, investing in window-well guards can better protect them from any spring water runoff.
Make sure to clear your downspouts and your gutters. If clogged, this can be a factor in your basement flooding. All that water from melted ice and snow will be directed away from your home when cleared. It would be beneficial if you also had a professional inspect your septic tank to ensure that it is properly functioning. It's also worth checking your basement's sump pump, as debris can impact its performance.
If a blocked sewer line exacerbates the flooding, installing a backwater valve can help. This mechanism will shut your home off from the sewer if there is a water blockage.
Flooded Basement Cleanup in Toronto
A flooded basement due to spring runoff requires immediate flooded basement cleanup in Toronto. All that water buildup can lead to mold growth. The longer your basement remains wet, the more likely that a mold outbreak will occur.
Flood Restoration Services
At Canada's Restoration Services, we can be on site within 45 minutes to deal with your basement's flood damage. Our flood restoration services in Toronto use top-of-the-line equipment to extract water from the affected area. Once the water is removed, we employ dehumidifiers to help with high-velocity air movement. With the area dry and all affected materials removed, we move towards the restoration process.
If you have any questions about a flooded basement, contact an expert at Canada's Restoration Services now!