How to Manage Electrical Risks During Flood Basement Cleanup
Posted in Flood & Water Damage, on June 30, 2022
---
If your residential or commercial falls victim to water damage in Toronto, the need for flooded basement clean up and repair is urgent. If not dealt with immediately, the water lingering in your property breeds many problems requiring advanced resources, like mold removal. While mold is a severe form of secondary water damage, as well as electrical damage, which could easily occur if water damage is left unchecked.
Don't add electrical damage to the traumatic experience of a flood. Continue reading to learn more about how to manage electrical risks during flooded basement clean up.
Be Aware of Items Plugged In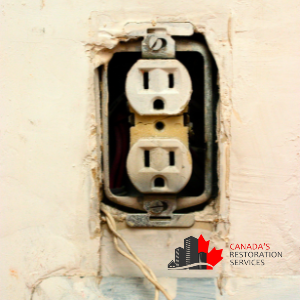 It goes without saying that electricity and water do not mix. If flood water does reach your basement appliances, such as your washing machine, clothes dryer, lighting, or water heater, it may cause these systems to malfunction, shut down, or cause irreversible damage to the wiring in your property. Not only does it pose a significant repair cost to your property, but going near these items plugged in after a flood increases the risk of electrical shock and injury.
Water can easily seep into low-lying outlets or appliances, like your washing machine. Unfortunately, appliances in your basement submerged in water are generally unsalvageable during flooded basement clean up. While the replacement may be costly, the hazard of electrical damage is far greater. To avoid electrical risks and secondary water damage in Toronto, contact Canada's Restoration Services for comprehensive and safe flood clean up and repair.
Checklist: How To Stay Safe
Staying safe during a flood is of the utmost importance. Water damage, unfortunately, is full of risks, ranging from bacteria to electrical issues. The best thing to do is to stay away from the affected area while waiting for the restoration company to arrive, but there are a few tips to keep in mind to guarantee your safety.
Wait for the Restoration Company to Remove the Electrical Meter: Never enter a flooded basement until the restoration company has removed the electrical meter from the socket. Even if your property has lost power, the only way to ensure your safety is if the property is disconnected from the power grid. Without being fully disconnected, the risk of being electrocuted is high.
Don't Use Flooded Electrical Equipment: While some items may be salvageable during flooded basement clean up, your electrical appliances will likely have to be replaced. Our team at Canada's Restoration Services works incredibly hard on content restoration. Still, when it comes to appliances, like your washing machine, water heater, air conditioner, boiler, furnace, or lights, they will be ruined by water submersion.
Conduct a Comprehensive Survey: After your flood basement clean up and restoration, ask an electrician to conduct a thorough survey of your property's electrical system. The property's grounding and bonding system may be seriously damaged by flooding, and only a licensed electrician is trained to deal with such damage. With a comprehensive survey and evaluation, you'll be able to know that your property is safe from electrical risks going forward.
Professional Water Damage Restoration Services
If your property is plagued by water damage, contact the trusted and certified professionals at Canada's Restoration Services. The best way to prevent secondary water damage and electrical risks is to act fast and be safe with comprehensive basement flood clean up.