A Guide to the Safest Flooded Basement Clean Up
Posted in Flood & Water Damage, on July 28, 2023
---
Flooded basements are one of the most stressful incidents that can occur in your home. It's always best to treat the damage as soon as possible to prevent damages that are more severe than it already is. Little do you know, there are dangerous ways to clean up the mess. Hiring professionals for flood cleanup services is advised to ensure the remediation is done correctly and efficiently. Canada's Restoration Services is the leading restoration company in Canada that helps with mold and asbestos removal and water damage in Toronto. Our team comprises licensed professionals with ongoing training to stay on top of the latest restoration guidelines. Get in touch with us today for all things home restoration.
Proper Protective Measures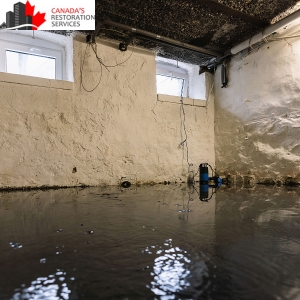 Though it's just water, it can harm you and everyone in your home. Water can easily interact with other materials in your home, causing mold or changes to your home's structure. At minimum, ensure to wear proper Personal Protective Equipment (PPE), including an N95 or N100 mask, gloves and goggles. You can find these at your local hardware store.
It's a given that electricity and water never mix well. To protect yourself from any electrocution, you must turn off your home's power once you detect a flooded basement. If you cannot do this yourself, call an electrician to do it for you.
Drying Out The Basement
The first step in drying out the water is using a wet or dry vacuum to suck up the water. This may take a few trips. After most of the water is gone, place fans and dehumidifiers to speed up the drying process. If you are uncomfortable removing the water yourself, do not hesitate to call a professional for flood cleanup services like Canada's Restoration Services.
Inspection: Check For Damages
Once your basement has dried, check to see if there are any cracks, damages, or mold resulting from the flood. Depending on how long the drying process takes, mold takes around 48 hours to develop in these situations. As the basement contains many parts that hold up the whole house, it can be detrimental to the home if you overlook damage. At Canada's Restoration Services, we attend to water damage in Toronto and make sure your home is back to what it was, leaving you with peace of mind.
Preventative: Waterproof Your Basement
Whether your basement has yet to flood or you just experienced one, it's vital to waterproof your basement. Basements are bound to floods, especially if you live in rainy climates. No matter the size of it, always be ready for a flood. Investing in automatic pumps or vents can help alleviate your home faster of water the next time you experience a flood. Contact Canada's Restoration Services with any inquiries or more information about this.
Canada's Restoration Services for Flood Cleanup
Canada's Restoration Services is the company to call when needing restoration services. We provide services in Toronto and around the GTA. We are certified and insured to restore your home to tip-top shape. We will arrive within 45 minutes of your call as we understand the urgency of water damage restoration. We like to work toward optimal customer satisfaction, keeping you informed every step of the way.