Do Public Properties in Montreal Contain Asbestos?
Posted in Asbestos Removal, on September 13, 2021
---
Asbestos isn't just in your home; it's in office buildings, department stores, student dorms, even museums — and not just as an artifact. There are many facilities in Quebec that people enter daily, unaware that these public spaces haven't had professional asbestos removal in Montreal that may contain the hazardous mineral.
While asbestos in building materials may not always be an imminent threat, it's a good idea to evaluate its condition. If you own a commercial property and are considering renovations or routine maintenance repairs, it's well-advised to get asbestos testing in Montreal, especially if the space was built before 1990. Professional asbestos services from Canada's Restoration Services can properly identify if asbestos is present and guarantee complete asbestos removal in Montreal.
Continue reading to learn about asbestos in public spaces and how to safely navigate asbestos removal in Montreal.
Types of Places that May Contain Asbestos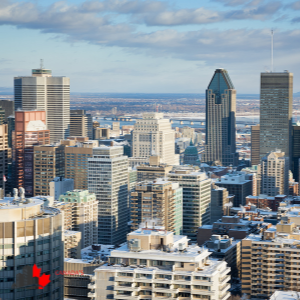 Montreal is a historical city, full of cultural heritage buildings, cathedrals, and schools, many of which were built before 1990. Chances are, if a residential, commercial, or cultural landmark is more than 30 years old, asbestos may be present throughout. Even hospitals and public buildings, like police stations, churches, and airports, may have been built with asbestos-containing materials.
Potential Sources for Asbestos Exposure
Asbestos usage peaked in the 1980s. It was a widely popular material for buildings due to its accessibility, affordability, durability, and heat-resistant properties. Asbestos was mined in many parts of the world, and Quebec played a significant role being the palace where the mineral was first mined and used in Canada, dating back to the 1870s.
Because of its durability and affordability, asbestos was used in nearly every building material: ceiling tiles, drywall, window caulking, vinyl flooring, linoleum, fireplaces, roof shingles, and plumbing, so construction, renovations, or damage to any of these building materials can result in asbestos exposure. Asbestos testing in Montreal will help identify sources of asbestos and their potential risk.
Health Risks Associated with Asbestos
The severe health risks of asbestos weren't well understood when it was first used to construct all these public properties. If asbestos is left alone and sealed away, there isn't a health risk. However, it does become airborne quite quickly. Sometimes, overtime asbestos can simply fall apart after years, or interference from repairs such as sawing, drilling, or sanding disturbs the resting mineral releasing its fibres into the air. If your commercial property is ageing and you want to start some repairs, contact Canada's Restoration Services for asbestos testing in Montreal to put your mind at ease and prioritize public health.
If you encounter asbestos and it's already been disrupted, immediate asbestos removal in Montreal will limit your exposure. Asbestos exposure causes permanent lung scarring and respiratory issues, leading to health conditions such as mesothelioma, lung cancer, or asbestosis. These symptoms can sometimes take decades to appear, so it's best to be proactive and get professional asbestos testing completed as soon as possible to limit exposure.
Professional Asbestos Removal in Montreal
Property managers and owners worried about asbestos exposure in your commercial property, Canada's Restoration Services can call customer service 24/7 to help you with all your asbestos-related inquiries. When it comes to asbestos, your health is our priority, and our certified professionals provide safe and comprehensive asbestos removal in Montreal.
If you're worried about asbestos or simply curious, there's a national directory online at the Government of Canada that lists public places that are known to have asbestos.
Book your asbestos inspection in Montreal: contact Canada's Restoration Services today.