Avoid Cross Contamination with A Commercial Cleaning Company
Posted in Commercial Cleaning, on August 18, 2021
---
It doesn't matter where you work; whether it be an office, newsroom, or restaurant, having your work environment clean and germ-free is highly beneficial. It increases morale, productivity, and a sense of well-being because it minimizes the risks of cross-contamination. Choosing Canada's Restoration Services to be your commercial cleaning company will limit the spread of germs and viruses, especially COVID-19, in the workplace. You should always be diligent when cleaning your workspace, but at CRS, our specialized technicians and advanced commercial disinfectant cleaning strategy goes above and beyond the normal scope.
Learn how you can work in tandem with a commercial cleaning company to prevent cross-contamination in the workplace.
How Cross-Contamination Happens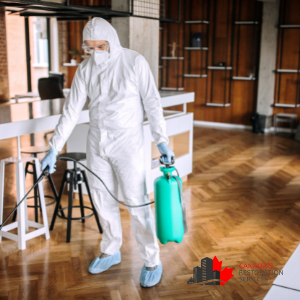 Cross-contamination is the spreading of germs, bacteria, viruses, and toxins that occurs when people or cleaning supplies touch the same surfaces. It can happen quickly and unknowingly in any workplace. However, with COVID-19 still a predominant part of our lives, the risks presented by contamination are elevated. When it comes to the workplace, think of all the common areas and items you share with your colleagues — those are all risks of cross-contamination. This surefire way of spreading germs can be daunting but commercial disinfectant cleaning offers a viable solution.
Culprits of Cross-Contamination
The biggest culprits of cross-contamination in an office environment include door handles, printers, vending machines, phones, and keyboards. These items are used throughout the day, possibly by multiple people, and are huge sources of germs. Shaking hands can cause cross-contamination as well. It's hard to know what people touched before shaking your hand, or even the last time they washed their own. That is why the most effective system is to keep these high-touch areas adequately disinfected.
Like any other commercial cleaning company, the team at Canada's Restoration Services disinfects touch-points to remove contaminants. But CRS takes it up a notch by leveraging strategic planning and equipment to safely prevent any cross-contamination and provide a satisfying clean.
Ways to Avoid Cross-Contamination
Consistent and strategic sanitization is key to reducing cross-contamination, but there is more to it than that. For one, sponges and cloths should be disposed of after one use; they tend to be hosts for bacteria, so cross-contamination is likely to happen if they're used on multiple surfaces. In addition to disposing of cleaning cloths, always sanitize your cleaning equipment after each use, and keep it elevated off the floor.
Cleaning high-touch and high-traffic areas after each use — printers, debit machines, handles — have become a common practice due to COVID-19, and doing so minimizes the chance of cross-contamination and the spread of germs.
Benefits of Commercial Cleaning
Without a doubt, it's beneficial to disinfect surfaces on your own time at work, but hiring a commercial cleaning service will eliminate any risk of cross-contamination and the spread of bacteria, toxins, and germs. Our team of IICRC certified specialists takes all the necessary steps and more, from cleaning plans, sealed spaces, and advanced, hospital-grade cleaning equipment. Canada Restoration Services has been performing commercial disinfectant cleaning and mold removal in Toronto for a decade, always prioritizing your health and safety.
Contact Canada Restoration Services today for cleaning services that prevent cross-contamination in your workplace.