Asbestos Pipe Wrap Management
Posted in Asbestos Removal, on August 10, 2021
---
You may be surprised to learn that you require asbestos removal in Montreal because your pipes are covered with asbestos pipe wrap. Pipe wrap is used in both residential and commercial properties in metal piping systems. The purpose of asbestos pipe wraps was to protect against abrasion and corrosion, especially in the joints of pipe systems. Since the dangers of asbestos became known, the dangerous mineral has been slowly banned in Canada, but it could still be found in your home. Asbestos testing in Montreal is the most reliable way to ensure you're not at risk of asbestos exposure from your pipe wrap.
If you think there could be asbestos in your pipes, here's what you should know.
Why is Asbestos Used in Pipe Wrap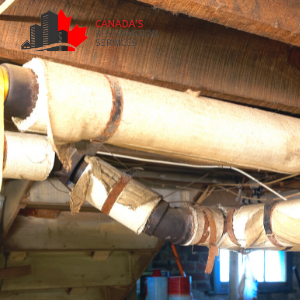 Asbestos wasn't always understood as a risk. The deadly qualities of these fibres were largely unknown. As such, asbestos was favoured in various industries and building materials for its durability, fire resistance, insulating properties, and affordability. Hence its use was widespread. Mainly asbestos was used in pipe wrap to better insulate pipes, to prevent freezing and to prevent fires from spreading. Once banned and heavily regulated due to its connection to chronic illness, asbestos removal in Montreal has occurred on a situational basis.
Identifying Asbestos in Pipe Wrap
Even without seeing asbestos, it's wise to source professional asbestos testing in Montreal if your property was built between the 1920s and 1990s, when asbestos use was far more prevalent. Asbestos pipe wrap has a similar texture to paper and plaster. Pipe or duct wrap with asbestos can be found in older homes around the entire length of the pipe or just at its joints.
Asbestos comes in many variations and is found mainly in three identifiable colours: blue, white, or brown. Pipe wrap usually used chrysotile asbestos or "white asbestos." But in some cases, blue or and brown asbestos can be identified in pipe wrap. Despite these colourings being attributed to the asbestos, fine fibres make it difficult to determine the colour safely once the mineral is disturbed. If you need to determine the type of asbestos in your pipe wrap, contact Canada's Restoration Service for 3rd party asbestos testing in Montreal.
When You May Uncover Asbestos Pipe Wrap
Sealed away in your home or commercial building, asbestos is not typically an active threat. Asbestos really only becomes a hazard when the material is disturbed by water damage, cutting, touching, or even hammering. It's vital to get asbestos removal in Montreal before this point since this is when its fibres are released and quickly divided, making inhalation more likely.
Construction, renovations, pipe maintenance, or any activity that will bring you closer to pipes with asbestos wraps are when you're most likely to be exposed to asbestos. It's best to avoid contact with asbestos or pipe wrap and any construction activities until you have completed a professional asbestos inspection. Once it has been confirmed that there has been no asbestos detected or you've undergone asbestos removal in Montreal, is it safe to proceed.
Call Canada's Restoration Service Today to Eliminate Asbestos Fast.