Mold Inspections & Mold Removal in Mississauga
Did you stumble onto a mold infestation on your property? Mold is dangerous. If you see it, act fast with a mold inspection in Mississauga, Cooksville, and the
When mold infests your property, it can multiply quickly, taking over vital building materials and compromising structural integrity and your health. Stop mold before it goes too far with mold removal in Mississauga.
Canada's Restoration Services offers a full range of Mississauga remediation services, including mold inspections, testing, and mold removal in Cooksville, Meadowvale, Port Credit, Erin Mills, and the entire Mississauga area. Our teams are IICRC-certified and equipped with more than a decade of experience, providing residential and commercial property owners with high-quality services to live and breathe a mold-free life.
How to Spot Mold Infestations in Mississauga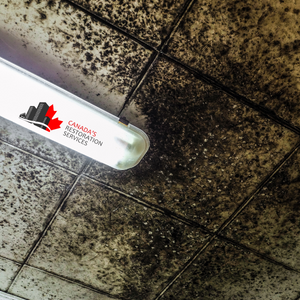 Mold has a distinct look and odour, which makes it easy to recognize when to call for help. Upon noticing mold around your property, book a free visible mold inspection with Canada's Restoration Services and get on the road to mold removal in Mississauga.
What Does Mold Look Like?
With hundreds of species identified in the Greater Toronto Area, not all molds will look or act the same. They can actually take a variety of forms. Recognizing consistent characteristics of the infectious fungus will help you know if you need an inspection or emergency black mold removal in Mississauga.
Colour: Most molds appear in Earth-toned colours ranging from white and light greens or yellows to deep browns and greens. If you notice dark-coloured mold on your property, you may need black mold removal in Mississauga. Contact Canada's Restoration Services for a fast inspection today.
Texture: While you should never touch mold, especially without gloves and property protective gear, mold infestations will appear with a specific fuzzy or velvet texture. The first few spots of mold will start sporadically, but as infestations multiply and become more expansive, they will overtake entire spaces, whether it's your tiles, walls, or ceilings.
What Does Mold Smell Like?
Mold has a distinct odour, described as musty or earthy. The worse an infestation is, the more offensive and pungent the smell. When you smell mold and see it around your property, you'll likely need comprehensive mold removal in Mississauga. Canada's Restoration Services can help!
If you just smell mold, contact us about mold testing in Mississauga.
Where is Mold Hiding?
To thrive and reproduce, mold spores require cellulose/organic materials like wood or insulation, humidity and moisture, heat, and darkness. It's where these conditions are prominent that mold tends to settle and evolve into large-scale outbreaks.
Services often required by property owners in Mississauga include:
Attic Mold Removal

Bathroom Mold Removal

Kitchen Mold Removal

Basement Mold Removal

Crawl Space Mold Removal
While these areas are commonly associated with mold, infestations can appear in other locations around a residential or commercial property that feature cellulose and humidity. The best mold inspections in Mississauga will offer a comprehensive assessment of your property to carefully identify the full extent of an outbreak and the requirements for successful mold removal in Mississauga, from mold testing and black mold remediation to basement, bathroom, and attic mold removal. Our teams services the entire Mississauga region, providing mold removal in Cooksville, Meadowville, Erin Mills, and more.

Are You or Someone Close To You Suffering from Mold Exposure?
Mold exposure can present symptoms commonly confused with allergies or colds in people who have unknowingly been around an outbreak. The health implications become increasingly severe depending on the species, like with black mold in Mississauga. A thorough inspection will determine the extent of an outbreak and know if you need black mold removal in Mississauga.
Some Symptoms Include:
Sneezing

Skin & Eye Irritation

Nasal Congestion

Post-nasal Drip & Sore Throat

Wheezing or Difficulty Breathing

Headaches or Migraines
To avoid exposure to the toxins released by mold spores and minimize the health implications of an infestation on occupants of your commercial or residential property, contact Canada's Restoration Services for reliable mold detection and removal services in Mississauga and the surrounding areas. Our team offers mold inspections, mold testing in Mississauga, and mold remediation that's fast, affordable, and effective.
Mold Removal Costs in Mississauga
Mold removal costs in Mississauga vary from job to job.
The cost of mold removal services in Mississauga will depend on:
where the mold is located

what is affected by the mold

how much mold there is and

the method of mold removal used
Mold is usually not covered by basic property insurance policy. Canada's Restoration Services works with every insurance company across Canada and will look into your policy. We value our clients and work with them throughout the process, from start to finish, to provide them with the best quality service they deserve.
Eliminating mold is a matter of making your space and air healthier and safer. Starting at $500, mold removal costs increase based on a few factors, such as the scope of the outbreak or the materials affected. For fast, affordable, and successful mold removal in Mississauga, contact Canada's Restoration Services right away.
Schedule your FREE visible mold inspection today.
Mold Inspections & Canada's Restoration Services
At Canada's Restoration Services, we offer free mold inspections in Mississauga and elsewhere in the country to help Canadians easily identify infestations hidden around their property.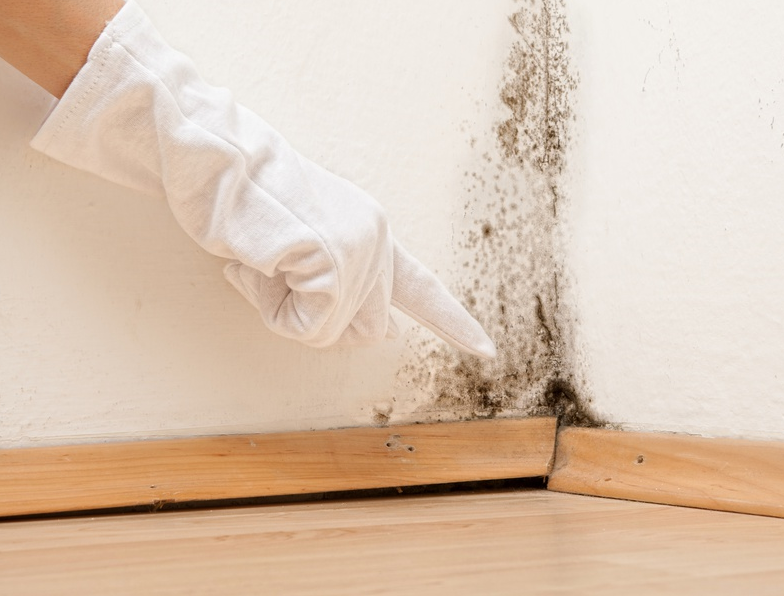 During inspections, our certified technicians will:
Determine whether there is a mold outbreak in your residence or commercial property

Find the source and assess the scope/extent of the outbreak

Collect samples for 3rd party mold testing in Mississauga

Determine next steps and begin mold remediation services
A mold inspection allows our project managers to assess the affected area, identify the source of the mold, stop the source of the mold and will provide instant recommendations on how to stop the mold from growing. Following the mold inspection, a detailed scope of work report will be sent that will outline our findings, recommendations, a plan of action moving forward and a free quotation.
Why Skip DIY Mold Removal Spray
Handling mold on your own with at-home tricks and do-it-yourself methods can be tempting to save time and mold removal costs. Unfortunately, even the most advanced over-the-counter mold removal spray cannot safely handle black mold removal in Mississauga or ensure the effective remediation of mold in your commercial or residential property. Mold spreads rapidly and can have dangerous effects on those exposed. Professional remediation is ideal for the best mold removal in Mississauga and elsewhere in the GTA.
Expert technicians equipped with the skills and training for comprehensive mold detection and removal can effectively identify the most hidden instances of mold and eliminate them, stopping the spread and air contamination. With advanced mold testing in Mississauga and inspection equipment, professional mold removal in Mississauga means better health for occupants and better structural integrity.

Mold Detection & Removal Mississauga
Following a mold inspection in Mississauga, our project managers will assemble a team of mold professionals for mold remediation in your home or office. Our project managers and mold technicians have years of experience and have mastered the mold removal process in Mississauga.
The mold removal process begins with our mold professionals containing areas affected by the outbreak. The containment needs to be in place ahead of the mold detection and removal to prevent mold spores from traveling and contaminating otherwise unaffected room. Hiring a professional mold removal company in Mississauga is extremely important. Without knowledge, training, skills, expertise and the proper equipment, additional damages can be created to your home or office.
Following the setup of the containment, our restoration technicians will strategically place HEPA vacuums and air scrubbers around the treatment areas. The HEPA vacuums and air scrubbers will enhance mold remediation in Mississauga, sucking in the extremely small mold particles and trap them. It will generate fresh new clean air and circulate back into the room. All affected materials and areas are scrubbed down, disinfected, cleaned and restored with antimicrobial solution. Antimicrobial treatment kills all microorganisms, specifically fungi (mold or mildew). After your home or business is restored, secondary clearance is performed to guarantee that the area is mold-free.
Mold Removal Mississauga
Finding mold in your home or business can be frustrating. Mold can lead to many serious short term and long term health effects. Effectively getting rid of mold is the only way to stop and prevent a negative impact to your health. Canada's Restoration Services is an insured and IICRC certified firm specializing in mold inspections and mold removal in Mississauga. If you're looking for mold removal services nearby Mississauga, choose Canada's Restoration Services. With over 15 years of experience providing GTA mold removal services in Mississauga, our certified project managers are highly trained experts in mold and mold services. We conduct free mold inspections in Mississauga and provide transferable certificates on properties to new home buyers for mold remediation.
Proudly Serving: Mississuaga, Applewood, Central Erin Mills, Churchill Meadows, Clarkson-Lorne Park, Cooksville, Creditview, East Credit, Erindale, Erin Mills, Fairview, Hurontario, Lakeview, Lisgar, Malton, Meadowvale, Meadowvale Village, Mineola, Mississauga Valleys, Port Credit, Rathwood, Sheridan and, Streetsville.