Mold Inspection & Mold Removal in Hamilton
Suspect a mold infestation in your home or commercial space?
If you notice a musty odour or have recently had water damage, there could be mold right under your nose.
Confirm it with a comprehensive mold inspection in Hamilton.
When mold gets into your residential or commercial property, it can quickly take over your building materials and infect your indoor air. The further along a mold infestation progresses with testing, inspections, or mold removal in Hamilton, the more significant its impact on your property and the people in it.
When mold strikes, act fast with Canada's Restoration Services.
Do You See Mold in Your Home or Workspace?
The first step to calling in the professionals for a mold inspection in Hamilton is recognizing the visible signs of an infestation.
Colours: While black mold removal is the most notable service and a common cause for alarm, infestations can appear in an array of Earthy colours, including grey, white, yellow, brown, and black.
Texture: Typically, mold will appear fuzzy or velvety and grow in a spotted pattern on surfaces.
Locations: Mold removal in Hamilton is often needed in rooms with high humidity levels and prone to leaks. Bathrooms, showers, pipes, water heaters, laundry rooms, attics, basements, and kitchens. To propel their growth, mold spores feed off organic materials like insulation, wood, and drywall. As a result, mold infestations commonly occur on surfaces such as walls, ceilings, wood, carpets, and attic insulation.
Is Your Property Vulnerable to Mold?
When mold settles indoors, it is because it is attracted to specific conditions that enable its growth.
Moisture: Water damage, leaks, or even just excess humidity in the air is a magnet for mold spores.
Cellulose: Organic materials like wood, insulation, and drywall commonly used as construction materials feed mold and encourage reproduction.
Heat & Dark: Sun and light can often kill mold spores, so mold outbreaks usually thrive in dark rooms, nooks, and corners where they can grow uninterrupted by cold temperatures or sunlight.
Not sure if you need mold removal in Hamilton? Schedule an inspection with the team at Canada's Restoration Services.
Stop the Symptoms of Mold Exposure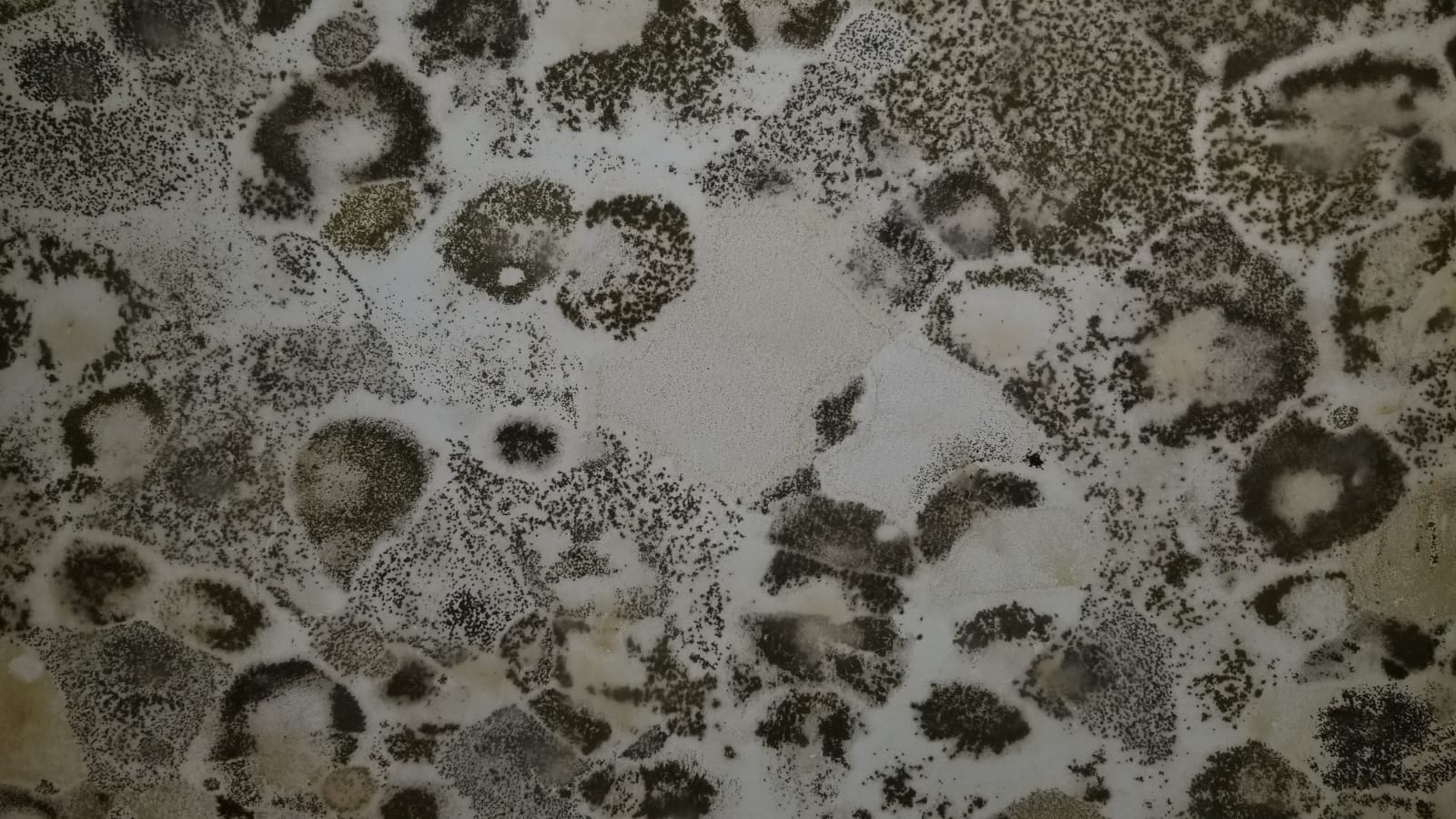 Black mold removal is commonly known for its toxicity. While not every instance of black mold removal involves the notorious toxic Stachybotrys species, all instances of mold pose a significant health risk. With over 700 species of mold discovered across Canada, the best way to ensure you're safe from an infestation is to schedule a mold inspection with Canada's Restoration Services.
The short-term and long-term effects of mold exposure can range from mild to severe. Some people are predisposed to mold-related illness, but with fast black mold removal in Hamilton, you can breathe healthier.
When you can't see mold but feel the effects on your body, contact Canada's Restoration Services to schedule inspections and mold testing in Toronto.
Symptoms of mold-related illness include:
Coughing
Sneezing
Wheezing
Shortness of Breath
Rashes & Skin Dryness
Eye Irritation
Nausea
Headaches
Lethargy
SCHEDULE A MOLD INSPECTION IN HAMILTON
The Problem with DIY Mold Removal in Hamilton
Do-it-yourself mold removal in Hamilton can be tempting when you see mold in your home or commercial building. But in cases of severe infestations and black mold removal, do-it-yourself mold removal sprays can put you in harm's way and keep infestations coming back.
When you identify mold in your bathroom, attic, kitchen, or any other room and realize you may need mold removal in Hamilton, a professional mold inspection is the best course of action. With mold inspections from Canada's Restoration Services, you can be sure we will identify the full scope of the outbreak and create a strategic plan to entirely eliminate the infestation and protect your indoor air quality.
EXPERT MOLD REMOVAL SERVICES IN HAMILTON
Canada's Restoration Services is an IICRC certified mold remediation company in Hamilton. We specialize in mold inspections and mold removal, serving Toronto anf the GTA, Ottawa, Montreal and Edmonton. With over 15 years of experience, our highly trained professionals have completed over 10,000 inspections and jobs nationwide. We conduct free mold inspections in Hamilton and provide transferable certificates on properties to new home buyers for mold remediation.

Book your free mold inspection today
For professional mold removal in Hamilton, homeowners can trust the professionals at Canada's Restoration Services to provide safe, long-term mold removal regardless of the size of infiltration. We have in-house technicians who are certified (IICRC) and experienced with all types of mold. We provide professional mold remediation in Hamilton, ensuring complete elimination of the mold.
During our mold removal procedure, CRS will often depend on 3rd party mold professionals for an assessment that is objective and impartial. In this way, we avoid any conflicts-of-interest. With CRS, customers are assured of comprehensive removal and remediation without remnants of any mold. As such, we use air scrubbers, negative air devices, and high-tech thermal cameras.
Mold Inspection Hamilton
If you believe there could be mold in your property, a mold inspection will help you confirm its location, its scope, and collect samples for third-party mold testing from a certified laboratory. During mold inspections in Hamilton a technician will carefully evaluate any visible mold on your property and identify any non-visible mold using our industry expertise and advanced technology including thermal imaging as well as air testing.
You'll get a scope of work report from a certified Canada's Restoration Services project manager detailing the findings, recommendations, ad suggested plan of action for mold removal in Hamilton.
If you suspect there is mold in your home or office, schedule a mold inspection immediately. The longer you wait, the more damage is created. Our certified experts use thermal imaging cameras to detect moisture in hidden areas. This is essential to effectively removing mold from your property.
Mold Removal Hamilton
The mold removal process in Hamiton must be carefully and precisely executed by highly trained professionals. Our team of professionals will ensure your home or business is mold-free and restored back to normal.
The mold removal procedure begins with our mold professionals isolating the area. The affected area is isolated to prevent mold spores from spreading across the rest of your home or business. Without a proper set up of a containment, home owners and business owners are putting their home or office at risk for contamination. During the entire process, from start to finish, our mold technicians are wearing personal protective equipment for safety reasons.
HEPA vacuums and air scrubbers are set up inside the containment to capture the mold particles and mold spores. With our state of the art equipment, we clean and deodorize the air in your home or office. All mold infected materials are separated between salvageable and non-salvageable items. Salvageable items are cleaned, disinfected and sanitized and restored back to perfect condition. All non-salvageable items are safely disposed. The antimicrobial solution is used to scrub and clean any remaining mold. Once the mold remediation procedure is completed, we complete a secondary clearance to guarantee that mold was effectively removed.
Black Mold Removal in Hamilton & Canada's Restoration Services
Canada's Restoration Services is a leading provider of mold removal services in Hamilton and the surrounding areas. Our team is composed of highly trained professionals equipped with advanced technology and IICRC training. With years of experience, you can count on high-quality and reliable results.
SCHEDULE A MOLD INSPECTION IN HAMILTON
Our Hamilton Mold Removal Process
For mold removal in Hamilton to be as successful as possible and eliminate the possibility of recurring outbreaks, remediation must be performed thoroughly and strategically. At Canada's Restoration Services, we use a six step process that is customized to the specific needs of your property.
Property Inspection: Mold removal starts with mold detection. Using thermal imaging cameras and visible inspections, our team of technicians will first identify whether there is mold present on your property, where that mold is located, and how much mold must be removed.
Air Testing: Air testing gives us a reading of how contaminated the air is with mold spores inside compared to natural mold levels outside. This gives us an idea of how significant your mold problem is. We use third-party laboratories for mold testing in Hamilton to ensure conflict-free results.
Scope of Work: Based on the findings from testing and mold inspections in Hamilton, we provide property owners with a detailed scope of work report, explaining the best recommended course of action.
Mold Remediation: Once we are given the go-ahead to begin mold removal, we will start clearing mold from your property and air using HEPA filters, specially designed disinfectants, and other industry tools.
Clearances: Once mold is removed, we use third-party and second-party permissions to confirm that mold levels in your property are neutralized.
Restoration: Anything that had to be removed or altered during mold removal is restored to its original condition or as close to its original condition as possible.
Mold Removal Costs in Hamilton
The cost of mold removal in Hamilton varies on a few factors, including where the mold is located, what is affected by the mold, how much mold there is and the method of mold removal executed.
Is mold covered by insurance? Every home owners and business owners insurance policy is different. Usually, the basic home owners insurance policy does not cover mold. We work with every insurance company in Canada and are able to assist you with the entire process. We directly bill your insurance company.
CHOOSE CRS FOR COMPREHENSIVE MOLD REMOVAL IN HAMILTON
Canada's Restoration Services provides comprehensive mold remediation in Hamilton and local communities. With more serious mold outbreaks, we provide extended hours service. Learn more about our range of services by calling one of our mold specialists at 1.888.551.0514 or contact us online.
Speak with a mold expert today