Why You Need to Keep Mold Out of The Workplace
Posted in Mold Removal, on August 15, 2023
---
Mold removal in Toronto should be a priority for all property owners, regardless of the nature of their building. But if your property is a workplace, whether it's an office, warehouse, manufacturing facility, or something else, flood restoration and mold services in Toronto are key to maintaining a healthy, functional, and productive environment. If you see mold on your property or have recently had a water damage incident, trust Canada's Restoration Services for certified mold removal services in Toronto and the surrounding areas. Canada's Restoration Services is the country's leading restoration company, offering reliable and effective solutions throughout major cities from coast to coast.
Here's why and how you need to keep mold out of your workplace.
Protect Your Team & Customers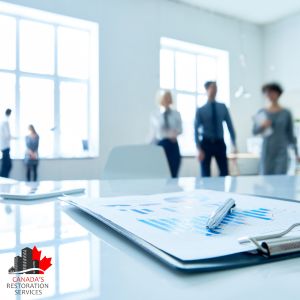 The longer mold lasts indoors, the further spores expand, releasing a harmful chemical called mycotoxins into their air. As the mold outbreak gets worse, these mycotoxins contaminate the air affecting those exposed for even a short period of time. However, most shifts last anywhere from 3 to 8 hours, which leads to long-term mold exposure and more severe symptoms, especially for older individuals or anyone immunocompromised. Detecting infestations or water damage early and responding with mold removal services in Toronto right away can minimize the negative impact of mold in the air, ultimately protecting your employees and anyone else who may frequent your building.
Signs of mold exposure include coughing, difficulty breathing, wheezing, sneezing, sore throat, sinus infections, rash, eye irritation, brain fog, headaches, and more. The longer one or more members of your team experience these symptoms, the more problems like absenteeism and efficiency will come up.
Maintain Aesthetics
Because many people are aware of the health implications of mold, seeing any signs of the infectious fungi can be uncomfortable for customers, vendors, and stakeholders beyond your employees. Velvet staining overtaking the walls tends to make onlookers uncomfortable and less likely to return. By conducting inspections after flood restoration or calling specialists for mold removal in Toronto, you can minimize damage.
Guide to Streamlining Mold Removal in Toronto Workplaces
Dealing with mold can be daunting, but certified mold removal services in Toronto are the key to successful remediation. Restoration companies like Canada's Restoration Services will handle the process end-to-end, eliminating the infestation for good. To get started with mold removal, first identify potential sources of an outbreak. The number one element mold needs to grow is water. If there has been a leak or flood on your property, water damage and flood restoration in Toronto, our team will ensure your property is restored and dried to prevent mold growth. If mold has already started to appear, call our team of experts, who will conduct a comprehensive mold inspection. Once an outbreak is assessed and located, we will follow our six-step mold removal process to ensure every trace is gone. We will remove damaged materials and restore your property. While a mold-free future can be challenging to attain, managing moisture and keeping an eye out for the early signs of mold can help you avoid mold removal costs in the future. Contact the company Canada trusts for affordable and reliable water damage and mold remediation services.