Why Ventilation is the Key to Attic Mold Removal?
Posted in Mold Removal, on July 08, 2022
---
From everyday tasks such as showering or running the dishwasher, moisture can quickly rise to your attic if you do not have proper ventilation throughout your home. Adequate attic ventilation can drastically reduce mold growth by preventing excess moisture in the area. Ventilation contributes significantly to attic mold removal but does not entirely eliminate the problem. In order to ensure that your home is free of mold, it is important to get mold remediation in Toronto. With mold removal and remediation services at Canada's Restoration Services, you can live comfortably knowing that your home is safe for you and your family.
Read on to learn if attic ventilation is solely the answer to your mold problems.
Signs You May Need Mold Remediation Services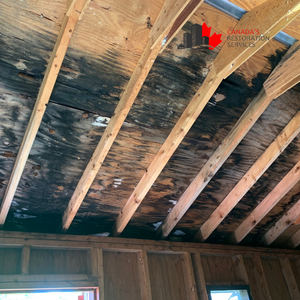 If you notice that your seasonal allergies aren't so seasonal and continue to last throughout the year, this could mean that your home has mold causing you to feel these symptoms. Some mold species produce a substance called mycotoxin, which can lead to health-related problems, including:
Headaches or migraines
Respiratory Issues
Sneezing or runny nose
Skin irritation or rashes
Sore throat
And more
Will Attic Ventilation Alone Help to Remove Mold?
Insulation is a very powerful tool for mold avoidance in your home. It manages the temperature and moisture of your home, making mold extremely hard to grow. Attic ventilation is the best for optimal mold prevention, although, for attic mold removal to be successful, it is critical to work with a certified remediation service in Toronto. Before installing insulation, mold can be removed and remediated to ensure that your home is free of spores. The team at Canada's Restoration Services are expert technicians who can execute mold remediation in Toronto effectively so you can live worry-free and healthy.
How Attic Ventilation Helps the Growth of Mold
When your insulation is old, it could spell trouble. Typically, attic insulation should be installed after 10+ years to ensure it works efficiently. Some homeowners may also have too much insulation due to improper installation, which can cause mold to form. Since attic insulation supports dry, temperature-controlled conditions, it inhibits mold from growing. Attic ventilation can significantly help the problem at hand and prevent DIY (do it yourself) mistakes. Canada's Restoration Services recommends blown-in cellulose insulation for controlling humidity, moisture, and mold throughout your home.
Will Mold Still Grow with Ventilation?
Though blown-in attic insulation is excellent for preventing and prohibiting the growth of mold, it does not entirely eradicate mold development from happening. To guarantee that mold will not return, mold removal and remediation are highly recommended by professionals in the industry. In addition, installing a new bathroom, kitchen, and laundry room fan is a great way to help remove excess moisture when cooking, bathing, or running your dryer.
Mold Removal & Canada's Restoration Services
Canada's Restoration Services is your top choice for attic mold removal in Toronto. With trained, certified, and experienced technicians, we're confident you'll get back to feeling great in your home in no time!
Contact us to schedule your mold inspection today!