Why is Your Basement Prone to Flooding?
Posted in Flood & Water Damage, on April 26, 2022
---
Warm weather is just around the corner, and with that comes summer rain and heavy downpours. While rain is often welcomed in the summer, it can be a nuisance for those who experience flooding in their basement. If your basement is victim to repeat flooding, you know that undergoing flooded basement repair and cleanup is an extensive process, especially without a trusted basement flood cleanup team like Canada's Restoration Services. The best way to prevent repeat home flooding is to get to the root of the problem.
Here are 4 common reasons Toronto homes are prone to flooding.
Grading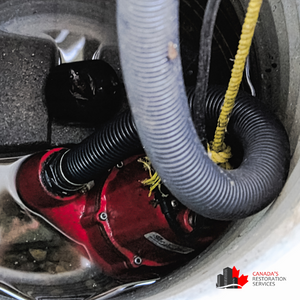 Positive grading means that your yard is sloped away from your home, which keeps water flowing away from your home and ensures proper drainage. If you notice that your yard is sloped towards your home, or it's not a steep slope, water will easily make its way into your property, accumulating in walls, window wells, and downspouts. If your basement has a slight trickle of water at the first sight of rain, or if you see signs of water damage, changing the grading of your property may be the solution. With positive grading, basement flood clean up is likely to be an chore of the past.
Gutters
Clogged gutters may not be the first thing on your mind when your basement floods, but perhaps it should be. The primary purpose of gutters is to redirect rainwater away from your home, but if your gutters become full of debris, the water has nowhere to go and will overflow. As a result, excess water has nowhere to drain and will seep into your home's foundation, causing flooding and the need for flooded basement repair. To minimize the chances of your basement being flooded, keep an eye on your gutters, and if they happen to be full of debris, clear them out. Clean and clear gutters are an integral part of flood protection.
Sump Pumps
While sump pumps are an excellent tool to reduce the risk of flooding and water damage in your basement, there is a concern about the possibility of your sump pump failing. If you have a sump pump, it's vital to regularly check on it to ensure it's working correctly. Sump pumps may fail for various reasons, the most common being a lack of power. Torrential summer storms often come with power outages, so if you don't have a backup generator, your sump pump will shut off. A backup power source will guarantee that your sump pump will continue to work, and doing so might just save your home from flooding.
Floor Drains
While sump pump failures and grading are common causes of flooding, floor drains may be the culprit. Sewage backup is a frequent source of flooding, and when it is triggered — through blocked or damaged sewage lines — it will come through your floor drains. If municipal sewer lines are overfilled or clogged, sewage will flow towards your home and enter through a floor drain, flooding your home with hazardous and unpleasant sewage backup. To prevent sewage backup from entering your floor drains and causing water damage, you can install a one-way drain plug. These plugs are installed below the drain and prevent sewage from entering your basement.
Best Flooded Basement Cleanup Services
If your basement is the victim of a flood, the trusted and experienced professionals at Canada's Restoration Services are here to help. For flooded basement cleanup in the Greater Toronto Area, our teams will respond within 45 minutes of your call.