Why Inspect a Home For Water Damage Before Buying
Posted in Mold Removal, on January 12, 2023
---
Water damage in Toronto isn't to be taken lightly. When water infiltrates a home, it often has detrimental and long-lasting effects. If flooded basement cleanup isn't completed quickly and thoroughly, it may result in widespread mold infestations, electrical damage, and adverse health effects. When buying a new home, it's crucial to keep an eye out for signs of past water damage so you can respond with appropriate water damage remediation and mold removal in Toronto when necessary.
For reliable restoration services in the Greater Toronto Area from water damage cleanup to mold inspections, contact the IICRC-certified team at Canada's Restoration Services.
Here's what you should know about water damage in Toronto before buying a home.
Common Causes of Water Damage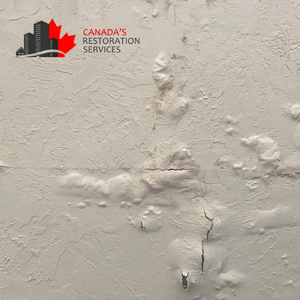 Water damage can happen for many reasons; more often than not, they're out of our control. Flooding due to extreme weather is a primary cause of water damage, especially flooding in basements. Clogged gutters, leaking roofs, and sump pump failures also cause water damage that may stem from torrential rain. Water damage also frequently occurs due to broken pipes; they may have burst due to fluctuating temperatures or deteriorated over time. Regardless of how water damage happens, it's important to know the signs. Check for discolouration or stains on ceilings, walls, or floorboards. If you're interested in a home but see a stain on the ceiling that looks suspicious, contact Canada's Restoration Services for an inspection and, if necessary, water damage restoration.
Dangers of Water Damage
If water damage isn't restored, it poses many risks to your health. There are different classes of water damage, ranging from sanitary water to black water, which is full of harmful bacteria that may cause severe gastrointestinal problems. If water damage in Toronto goes without flooded basement cleanup for an extended period, it will result in mold growth and structural instability, especially in the foundation of your home.
The Relationship Between Water Damage and Mold
Mold thrives in damp environments, so it doesn't take long for pesky mold spores to settle after a flood or a minor leak — it only takes 24-48 hours for infestations to appear. Any leak or any water damage that isn't fixed or restored within a few days will leave property owners in need of mold removal in Toronto.
Steps for Flooded Basement Cleanup
If you buy a home and experience water damage, staying calm and acting fast is imperative. The sooner you contact a professional for water damage restoration, the less severe the effects will be. For efficient and effective restoration, contact Canada's Restoration Services. Our experienced technicians will arrive quickly at the scene and take care of everything. Following restoration and cleanup, it's in your best interest to conduct a professional mold inspection. This way, you'll be able to identify any possible sources of growth and, if necessary, conduct mold removal in Toronto quickly and safely.
Move Safely with Canada's Restoration Services
When buying a home, we understand that you may have concerns, especially regarding water damage. Before you sign over the papers for your new home, contact a professional for a water damage inspection. If signs of water damage have been discovered, the team at Canada's Restoration Services will help restore your home to its perfect condition.