Why are Basement Floods So Common?
Posted in Flood & Water Damage, on July 24, 2022
---
When your basement floods, it can cause you and your family tons of stress and burden.Dealing with basement flood clean up and keeping track of the items that got damaged is often overwhelming and chaotic. If you experience water damage in Toronto, be it a flooded basement or a burst pipe, it's best to call a professional to take over and get the problem fixed properly and efficiently. Canada's Restoration Services offers basement flood clean up services, so you can leave the mess to us.
Basement floods are only expected to become more frequent, so it's important to be prepared. Read on to learn what causes common basement flooding.
Plumbing Malfunctions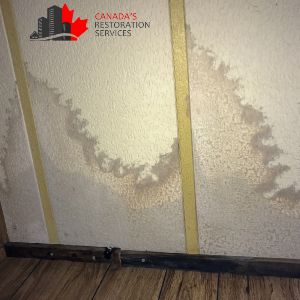 Being the lowest level of your home, basements are prone to flooding for many reasons, but the most common being due to plumbing malfunctions. Many older homes still use original metal pipes susceptible to corrosion or bursting. If your pipes burst due to extremely cold temperatures, a flood in your basement is inevitable. If this occurs, contact a professional immediately for basement flood clean up to restore your property. Following the repair and restoration of water damage in Toronto, upgrading your plumbing system to new pipes is in your best interest to reduce the risk of future malfunctions.
Stormy Weather
Right behind plumbing issues, storms and torrential rainfall make basement flooding highly possible. When rain falls in excess, especially for an extended period, water levels will rise quickly and may easily infiltrate your basement, especially if you don't have a sump pump. In addition, if the grading of your yard slopes towards your home, running water will pool and inevitably flood your basement. Aside from large volumes of water, flooding during storms may also be caused by an oversaturated earth. If flooding occurs due to an oversaturation of water, it's likely due to improper waterproofing of your basement.
Unprotected Basements
An unsealed or unprotected basement is incredibly vulnerable to floods. Without adequate protection, your basement may flood more often than protected basements. There are numerous ways to seal and protect your basement from future flooding. For one, you can clear any debris and blockages in downspouts and gutters to ensure that all water flows freely. Additionally, downspout extenders are an excellent idea for further protection; these will carry rainwater more than ten feet from your property and away from your basement. When it comes to sealing your basement, sealants and epoxy injections, while effective, are generally only temporary fixes. Contact a professional restoration and waterproofing company to adequately seal and protect your basement to prevent future floods.
Why Choose Canada's Restoration Services for Flood Clean Up
The results of a flooded basement are devastating. If a flooded basement isn't professionally and effectively restored within two days, you may face structural issues and mold infestations. If your basement floods, the most important thing to do is to take action. Contact Canada's Restoration Services for flood clean up services and water damage restoration. Our team of trusted professionals will quickly arrive at the scene following your call. Following your flood, our goal is to restore your basement to its pristine, pre-disaster condition and restore as many items as possible.