Where Are You Likely Going To Get Mold After a Flood
Posted in Mold Removal, on July 22, 2022
---
When your home floods, it's a stressful and overwhelming experience. When you first encounter water damage in your property, it's imperative to conduct flood clean up and restoration right away. If not, your home will fall victim to mold infestations, and you'll need mold removal in Toronto from Canada's Restoration Services. There are areas in your home that are more susceptible to flooding than others, and as a result, the chance of finding mold infestations are higher as well. To minimize the possibility of mold growth after a flood, contact Canada's Restoration Services for flood damage restoration immediately. Our team will respond within 45 minutes to water damage in Toronto and the Greater Toronto Area.
Here's where you're likely to discover mold infestations after a flood.
Carpets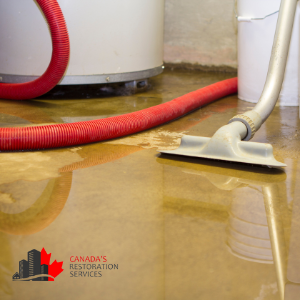 Carpeting in your basement, either an area rug or wall-to-wall carpeting, is a haven for mold growth. Carpets absorb water, and if floods are not restored correctly, the area underneath and around carpeting will stay damp and moist for an extended period. Additionally, the soft fabrics, cellulose, dirt and dust around carpets give mold a food source, making it even more appealing for mold spores to settle and grow. With the excess moisture, dark environment, low ventilation, and presence of organic matter, mold will surely flourish and grow around the carpeting. If you notice your carpet has an unpleasant, musty odour following a flood, contact Canada's Restoration Services for mold removal in Toronto.
Wooden Floors
If wooden floors in your home have been affected by a flood and flood damage restoration has not been conducted immediately, it's highly likely that mold will grow in and around your wooden floors. If wood floors become damp, it becomes an ideal breeding ground for mold. Unfortunately, it's difficult to find and even more challenging to eradicate; mold spores will root themselves in your floorboards and often need to be removed and replaced.
Basements
Basements are at risk of flooding, either coming from sewage backup, sump pump failure, burst pipes, or appliance malfunctions. Add in the low light, and low ventilation basements typically have, and mold infestations will be inevitable. In addition, basements are often used for storage, creating clutter that mold feeds off. The more clutter in your basement, the more moisture lingers in your basement, creating a welcoming, damp environment for mold.
Bathrooms
Much like basements, bathrooms are vulnerable to flooding and water damage. If your bathroom has flooded and has not been restored adequately, mold will likely grow soon. Aside from the presence of moisture from a previous flood, bathrooms are small, cramped environments with minimal airflow and dark crevices.
Laundry Rooms
If your washing machine malfunctions and causes a flood, water will seep into small corners of your laundry room and result in mold outbreaks if the flood has not been repaired and restored. Even after a flood, the washing machine's constant moisture and the dryer's heat create an excellent environment for mold spores to settle and grow.
Professional Mold Removal Services
If you've experienced a flood in your home, keep an eye out for mold growth in some regions of your home. If you encounter mold in any area, contact Canada's Restoration Services for comprehensive and effective mold removal in Toronto.