What's Your Ceiling Telling You About Water Damage Repair?
Posted in Flood & Water Damage, on March 23, 2022
---
Spring has arrived in Toronto, and with that comes bouts of consistent and heavy rainfall. While rain is welcomed to help flowers bloom, too much rain can cause harm to your property. If you suspect that your property has fallen victim to water damage, there are telltale signs to look out for, especially in your ceiling. Look at what your ceiling may be telling you, like unusual spots, stains, or leaks, and then call Canada's Restoration Services for water damage restoration in Toronto. The faster you act on water damage repair the more effectively you will be able to avoid mold outbreaks and structural damage.
To learn more about what your ceiling is telling you about water damage, continue reading.
Why are Ceilings Prone to Water Damage?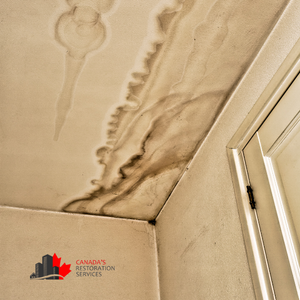 Within ceilings are a labyrinth of pipes, plumbing fixtures and structural necessities that contribute to the infrastructure of our home. The high number of pipes in ceilings within modern homes increases the likelihood of a break, leak, or burst plumbing fixture, making ceilings prone to water damage. Additionally, ceilings may be the first culprit of water damage in your home from roof damage, either from high winds, excessive rain, or wood rot.
Signs of Water Damage in Ceilings
There are a few different ways you can tell that you're in need of water damage repair from the trusted professionals at Canada's Restoration Services. The three most common signs are discolouration and water spots in your ceiling, paint flaking and bubbling, and leaks.
Discolouration: Water stains are the most common sign of ceiling water damage and can be found in any part of your property that has experienced water damage. In the instance that you notice your ceilings have stains or spots, contact Canada's Restoration Services for water damage restoration in Toronto.
Paint Flaking: Paint will flake, bubble, and even peel if it has come in contact with excessive moisture or water. Peeling or flaking paint is a significant indicator that severe — and usually prolonged — water damage has occurred in your ceiling. If there's enough water hidden within your ceiling, paint and plaster will peel and bubble with ease, ultimately exposing plywood, ceiling joints, or even roofing material.
Leaks: Without a doubt, if there are leaks coming from your ceiling, there's an evident water damage problem. There are a few explanations why there's a leak coming from your ceiling, but the most common being is damaged pipes — especially if the bathroom is directly above the affected area. If a pipe wasn't installed correctly, has worn out with age, or burst due to freezing temperatures, it will leak and result in ceiling water damage and even mold. Other reasons why leaks may be coming from your ceiling may be due to poor waterproofing, resulting in excess moisture from a damp bathroom, or dislodged hoses in washing machines if you have laundry appliances upstairs.
When you identify any possible signs of water damage, it's imperative that you contact a professional for immediate water damage restoration and repair. Our specialists at Canada's Restoration Services will arrive quickly at the scene to help combat water damage in your home.
Call our team for water damage restoration in Toronto right away!