What Kind of Flooring Should Undergo Asbestos Testing in Edmonton?
Posted in Asbestos Removal, on February 16, 2022
---
Asbestos removal in Edmonton is most commonly required for out of sight spaces in your home, with frequent cases being focused on insulation in attics or building materials behind the walls. But it isn't rare to find the mineral hiding beneath your feet in your property's flooring.
If your property is 40 years or older, there's a high likelihood that asbestos fibres are lingering in your home in one form or another. The most effective way to detect asbestos fibres in your floors is with asbestos testing in Edmonton from Canada's Restoration Services. Provided with a thorough inspection and testing you will be able to identify asbestos-contaminated materials and assess the risk they pose to occupants.
Asbestos Testing in Edmonton for Flooring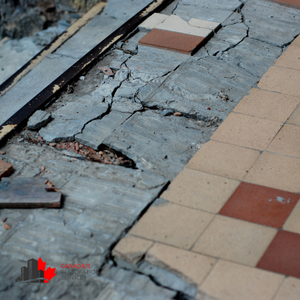 Before the dangers of asbestos exposure became apparent, it was common for construction companies to incorporate the mineral in their building materials, thanks to its heat resistance and effectiveness as an insulator. When it came to flooring, asbestos was mixed into the picture to help create fireproof and affordable tiles and sheeting, with linoleum and vinyl being the most common forms of asbestos-containing flooring.
Besides being used as flooring adhesives, asbestos was also used as masting to bind the tiles together and keep them glued to the ground. Additionally, it was common for the paper backing of linoleum flooring to be made of asbestos.
While they posed virtually no immediate threat when first sealed and installed, both linoleum and vinyl flooring or sheeting grew to become dangerous over time, as well as from wear and tear. By now, these products are most likely - or are nearing - friable states. This means that they can easily break down and send hazardous particles into the air. Worn or damaged tiles may crack and send the mineral into the air as well.
The best way to confirm if the mineral is present in your flooring is to have an expert from Canada's Restoration Services come to your property and complete asbestos testing in Edmonton. Attempting to remove asbestos on your own should never be done, as friable asbestos can be easily disturbed and can quickly send toxic particles airborne. The entire process, from testing to asbestos removal in Edmonton, should be left to professionals.
Removing Asbestos From Your Floors
If our asbestos testing in Edmonton services determine that asbestos is present in your flooring, professionals at Canada's Restoration Services will move towards a full-scale and comprehensive removal of the contaminated material.
The safety of your household and our crew members is our number one priority, which is why we take careful steps to avoid any risk of cross-contamination. This is achieved by installing full containment gear and equipment, including air scrubbing machines with HEPA filtration systems that remain running throughout the entire removal process. As for the mineral itself, a binding agent is sprayed onto the friable flooring material, wetting it and ultimately preventing it from going airborne. Once the plaster hardens, we place the material in a hazard bag for safe and appropriate disposal.
Contact one of our experts now if you're concerned about asbestos in your flooring!