What is Soot, Does It Require Smoke Damage Repair?
Posted in Asbestos Removal, on February 17, 2022
---
A fire breaking out in your residential or commercial is the last thing any business owner or homeowner wants to experience. Unfortunately, even after the flames have been extinguished, smoke damage and other toxic particles that linger posing a severe risk to your health and safety. To help alleviate stress and ensure your well-being, smoke damage repair is recommended for homeowners before returning to your property.
At Canada's Restoration Services, our services in smoke damage restoration in Edmonton will efficiently and carefully return your home to the habitable conditions you were accustomed to living in. At the top of our list of hazards to address after a house fire is soot. But what exactly is soot, and how harmful can it be?
What Is Soot?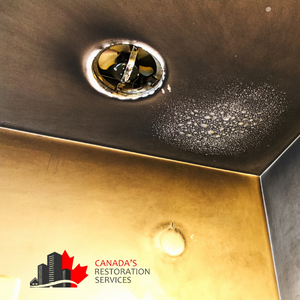 When professionals deal with smoke damage repair after a structure fire, they will inevitably run into soot. The incomplete combustion of wood, coal, oil and other fossil fuels leads to the creation of tiny carbon particles known as soot. In addition to acids, soot contains dust, metals, soils and chemicals, leaving behind a horrific stench.
Because of its microscopic size, soot residues can travel throughout your home and latch onto hard surfaces, such as walls or ceilings. Without immediate smoke damage restoration in Edmonton, the acidic properties of soot can cause further damage to your property and contaminate and deteriorate the indoor air quality.
The longer you wait to begin smoke damage repair, the more vulnerable you and any other occupants are to the hazards of soot. Soot typically enters your body through inhalation, but it can also infiltrate your body through your eyes or even accidental ingestion. Exposure to soot and its toxic particles can lead to breathing issues, such as bronchitis, asthma, cancer and coronary heart disease. The most vulnerable to soot-related illnesses are the elderly, infants and those already experiencing breathing issues.
Soot & Smoke Damage Repair
Addressing soot or any other issue resulting from smoke damage should not be done on your own. Not only is it dangerous, but improper cleaning of soot can lead to its spread, further damaging your home and belongings. The removal process requires expertise, knowledge and professional tools.
At Canada's Restoration Services, we understand how crucial it is to restore your home following the first day or two after the fire is extinguished. Our first step in our smoke damage restoration in Edmonton service is our pack-out service, a feature with a 24/7 response time that enables our crews to be on site within an hour after first calling. We carefully relocate your valuables and belongings from your damaged property to a secure facility, documenting each salvaged item as it comes out of the house. A certified fire damage specialist will assess the property and provide the appropriate scale of work. The entire process will have oversight from a dedicated Canada's Restoration Services manager to ensure that communication is clear throughout the procedure.
As for the actual removal process, we contain the entirety of your property. Our crews are required to wear PPE throughout the process, with all affected materials removed from the property. As the striped area is then cleaned and sanitized, negative air and air scrubber machines are constantly operating to restore air quality levels.