What Are the Consequences of Water Damage in Toronto?
Posted in Flood & Water Damage, on December 14, 2022
---
Let's face it, water damage in Toronto is a property owner's worst nightmare. It's stressful, overwhelming, and difficult to deal with. When it first happens or is first notice, many people don't know how to respond. Regardless of how water infiltrates your property, either from a sewage backup or natural disaster, you should contact a professional for flooded basement cleanup and restoration. If water damage is left for more than two days, the consequences will seriously impact you, your family, and your property itself.
Read on to learn more about the consequences of water damage in Toronto.
Mold Outbreaks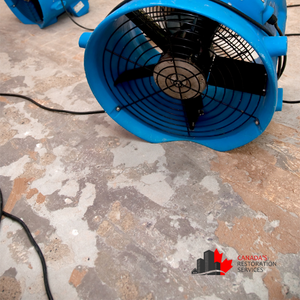 Unchecked water damage will cause mold spores to fester and grow rapidly. The slightest presence of moisture, paired with inadequate ventilation and low light, creates the perfect breeding ground for mold. If water has damaged your basement, mold outbreaks will soon appear. To minimize the chance of pesky mold spores from settling and growing on your property, contact Canada's Restoration Services for flooded basement cleanup.
Black Water Exposure
If the source of water damage was due to a toilet overflow or drain backup, you may be at risk of black water exposure. Black water is considered the most dangerous type of water damage that results from storm runoff, sewage backups in the basement, and overflowing toilets. Black water contains high amounts of sewage and bacteria, potentially resulting in gastrointestinal problems if exposed. To ensure your health is in top shape, contact a professional immediately for sewage backup cleanup and water damage restoration.
Structural Damage
Depending on the amount of water that has infiltrated your property, your property may be at risk of severe structural damage. If water damage isn't restored within two days, drywall will begin to deteriorate, the subfloor will be easily warped, and the foundation will start to soak up water that will weaken the entire structure.
Material & Structural Damage
Aside from structural issues, water damage will also cause damage to hardwood floors or laminate floors. Once laminate and hardwood floors have been affected by water, they will buckle and need to be replaced. If carpets or rugs are affected by water damage in Toronto, they will also need to be replaced quickly. If carpets are left unchecked after a flood, they become a prime spot for mold infestations.
Electrical Damage
If water damage is left to linger without professional restoration or cleaning, you may face permanent electrical damage, and you may need to replace the wiring in your home. However, if you catch water damage as soon as possible and contact Canada's Restoration Services for efficient water damage repair and cleanup, you're reducing the risk of permanent electrical damage.
Damaged Personal & Sentimental Items
If water damages your electrical system and foundation, it will also damage your personal belongings. But, if you act fast and contact a professional water damage restoration company, like Canada's Restoration Services, you can minimize the effect that water has on your belongings.
Act Fast with Flooded Basement Cleanup
For efficient and advanced water damage restoration, contact Canada's Restoration Services. We'll take the stress out of the entire situation and restore your home to its former condition.