Tips for Attic Sheathing Mold Removal
Posted in Mold Removal, on October 23, 2023
---
Roof sheathing is a strong layer of wood boards, typically made with plywood, designed to reinforce joists and trusses. This attic and roof feature is vital for maintaining the structural integrity and weight distribution of your roof; as such, it must be protected. One problem many property owners need help with sheathing is mold. Without mold removal in Toronto, outbreaks can impair the structural support of the property and compromise air quality, leading to a variety of health and structural integrity challenges. For fast mold detection and effective attic mold removal, contact Canada's Restoration Services. Our experienced restoration specialists will help you free your property of mold before it gets worse.
For tips on how to keep your attic sheathing mold-free, read on.
Identifying the Mold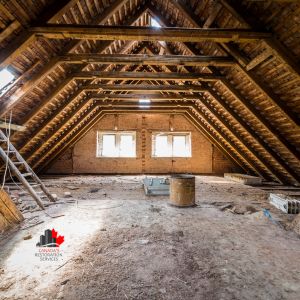 The first step is identifying the mold, which is less apparent than it may sound. Mold can appear differently depending on the species of mold and where it is growing. The most prominent sign of attic mold is typically its notorious odour. You will smell an Earthy scent and notice staining on the sheathing or elsewhere in your attic. On wood, mold will appear as dark staining, which can often be mistaken as soot from a fire or water damage. If attic mold has been left to grow over a more extended period, it may appear as a fuzzy or velvety growth. If you are having trouble identifying the issue, attic mold removal experts at Canada's Restoration Services can conduct a comprehensive mold inspection and removal action plan.
We advise you not to take mold removal in Toronto into your own hands as it can be a hazardous and dangerous job.
Preparing for Attic Sheathing Mold Removal
Eliminating mold from attic sheathing is a demanding endeavour and should be handled by experienced technicians. Successful mold removal in Toronto requires the right equipment and strategy, especially in hard-to-reach areas like the attic. Before embarking on the removal process, it's imperative to pinpoint and rectify the moisture source in your attic, whether it stems from a leaky roof, insufficient insulation, or inadequate ventilation, as mold proliferates in damp conditions.
Prevent Mold from Coming Back
The key to keeping your home or business free of mold outbreaks is identifying and addressing the root causes of mold growth. Mold is a common invader of the attic for several reasons, including the abundance of moisture and organic materials and insufficiencies in ventilation. To keep mold at bay, experts recommend improving roof ventilation and ceiling leaks in the attic. Mold removal in attic sheathing requires constant vigilance and maintenance to prevent future occurrences. Routine checks and proper care are key to ensuring a mold-free attic, which safeguards your home's structural integrity and the well-being of your household.
Certified Mold Removal Experts in Toronto
Canada's Restoration Services have a variety of techniques to address attic mold growth, ensuring the total removal of mold and preventing its return. This gives you peace of mind and keeps your home and family safe from this hazardous fungus. For industry-leading mold removal from a trusted and reliable restoration company in Toronto, choose Canada's Restoration Services.