The Relationship Between Ventilation & Attic Mold
Posted in Mold Removal, on April 29, 2023
---
Attic mold removal is a high-demand service, as attics can be magnets for mold. The good news is, if you do find mold in your attic, there are some steps you can take to remove it and prevent infestations from recurring. While the appearance of mold in your attic can be attributed to a number of factors, one primary concern that is uncovered during attic mold removal is poor ventilation. With expert mold removal in Toronto you can eliminate the source of mold effectively to then begin addressing the causes of attic mold.
Read on to learn more about the link between mold in your attic and ventilation.
How Ventilation Affects the Growth of Mold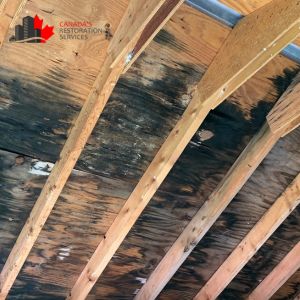 There are two ways that poor ventilation can affect mold growth in your attic. The first way an attic with poor ventilation can grow mold is if moisture comes into the attic during the damp weather and it is not finding a proper route out of the house. This can also happen if your heat is on and your attic is not adequately ventilated; the hot air will become trapped in the attic, creating condensation with the cold exterior over time.
The second way that poor ventilation can contribute to mold growth in the attic is that mold spores are regularly in our homes. Proper ventilation will increase circulation and help regularly transport mold out of the house so it does not cause a problem.
If the attic lacks ventilation, this will lead to the buildup of moisture and mold spores which will likely lead to an infestation that will require mold removal in Toronto for the health of your family and home.
Attic Mold Removal
It is suggested to use a trusted certified professional to assess the level of mold infestation and diagnose the source. Professional mold removal services will conduct a thorough inspection, send specimens to be tested, and then perform mold remediation. Canada's Restoration Services will also conduct air quality testing afterwards to ensure the mold removal was successful.
A proper diagnosis will help determine if the moisture buildup is caused by a leak, poor insulation, and insufficient ventilation. You will want to ensure that once a thorough attic mold removal is performed, you address the source to ensure your attic is in excellent condition and there will not be future issues with mold in your home.
Improving Your Ventilation
Installing vents to help with attic ventilation will help prevent mold and structural damage to your home. The importance of good ventilation can't be stressed enough. Installing attic vents or replacing damaged ones will help increase the ventilation in your attic and protect your home from mold, developing leaks and eroding roof shingles.
Canada's Restoration Services for Mold Removal in Toronto
Canada's Restoration Services have been helping homeowners and businesses remove mold for over 15 years. They are an award winning restoration company in Toronto offering thorough attic mold removal services. Canada's Restoration Services team is licenced, certified and well-trained and will be able to use their skills and experience to help with all of your mold removal needs.