The Relationship Between Leaks & Attic Mold
Posted in Mold Removal, on February 10, 2023
---
The relationship between leaks and attic mold is a common issue that homeowners should be aware of. Attic mold can be a serious problem, causing a variety of health problems, and damaging the structure of your home. If you suspect that your home is in need of attic mold removal, it's important to address the problem as soon as possible. One of the most common reasons property owners require mold removal in Toronto is because of water damage and attic leaks. Canada's Restoration Services is a leading restoration company in Toronto providing IICRC-certified mold removal services throughout the GTA and Canada.
Read on to examine and understand the relationship between leaks and attic mold and what you can do to prevent it.
What Triggers Attic Mold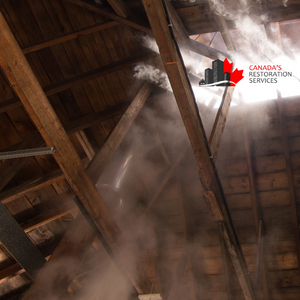 Attic mold is caused by excess moisture in the air. When water infiltrates your attic, it provides the perfect environment for mold to grow. Water can enter your attic through various means, including roof leaks, damaged ventilation systems, and even high humidity levels. Once mold starts to grow in your attic, it can spread quickly and be difficult to remove.
How Roof Leaks Prompt Attic Mold Removal?
Roof leaks are one of the most common causes of attic mold. When your roof is damaged, water can enter your attic and cause mold to grow. The problem with roof leaks is that they can be difficult to detect. You may not see any visible signs of water damage until the mold has already started to grow.
Some common symptoms of a roof leak include:
Water stains on your ceiling
A musty odor in your attic
Sagging or discolored areas on your ceiling
A sudden increase in your energy bills
To prevent roof leaks from causing mold, it's a good idea to have your roof inspected regularly. If you find a leak, it's essential to repair it as soon as possible and schedule a professional mold inspection with Canada's Retstoration Services. You should also regularly inspect your attic ventilation system to ensure it is functioning correctly, keeping mold spores and moisture out of the attic cavity.
Humidity & Mold Removal Toronto
High humidity levels in your attic can also cause mold to grow. High humidity levels can be caused by poor ventilation, air conditioning problems, and leaks in your plumbing. To prevent high humidity levels from causing mold. Humidity can be monitored by hygrometers. However, if the source of moisture is a leak, you must seek immediate restoration for water damage in Toronto to minimize the change of mold infestation.
Qualified & Trusted Mold Removal Services
If you do suspect that your attic has mold, professional mold inspections in Toronto are critical. A trained and experienced mold inspector will be able to assess the extent of the problem and recommend the best course of action.
If you suspect your attic is infested with mold, address the problem as soon as possible. Regular inspections of your roof, ventilation system, and air conditioning system can help prevent mold from growing in your attic. If mold is found, contact Canada's Restoration Services professionals for mold removal in Toronto.