The Most Common Causes of Home Flooding
Posted in Flood & Water Damage, on April 07, 2022
---
Flood restoration services are not only needed when rivers are overwhelmed by storm surges. Residential flood cleaning services are required frequently, and in many cases, the problem is even seasonal. If you're worried about your property being the target of water damage or floods this spring season, keep an eye out for common types of water damage in your home and call Canada's Restoration Services for flood restoration services and cleaning right away.
To learn more about different ways your home may possibly be flooded this spring, continue reading.
Burst Pipe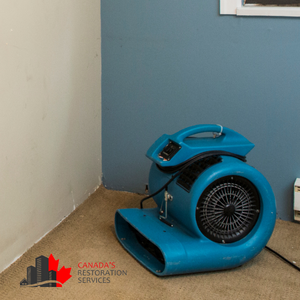 Burst pipes can happen suddenly, especially during an extreme temperature fluctuation. When water freezes and swells, old pipes will likely break and cause a leak. While these leaks may often be slow and small, they still pose a significant risk of flooding your home. If you notice any signs of a burst pipe, such as discolouration in your ceiling, contact a professional restoration service to repair the issue to avoid widespread water damage and flooding.
Appliances
Damaged or improperly connected appliances, like dishwashers, washing machines and refrigerators, may lead to severe home flooding. These appliances often leak due to a clogged hose or incorrectly connected plumbing line. If either occurs, the chance of a flood within your home is high. To prevent home flooding due to your appliances, it's best to be proactive and conduct regular inspections of their functionality. Periodic inspections will ensure no surprise leaks or issues that may trigger a flood.
Sewage Backup
Sewage backup may occur for various reasons, such as heavy rain, blockages, or damaged municipal sewer lines. If you come across possible signs of sewage backup in your home — slow drains, gurgling noises, or a foul odour — a flood in your home may be imminent. If sewage backup and flooding are an unexpected surprise, contact our Canada's Restoration Services team for emergency flood cleaning services and sewage backup repair and restoration.
Faulty Drainage Systems
Perhaps the most common reason for home flooding is faulty drainage systems, which occur frequently and easily. If your toilets, sinks, and showers become clogged quickly, it impacts your plumbing system more than you may think. Consistent blockages in your drainage system may lead to leaks and cause structural damage within your home. Additionally, faulty drainage issues are not exclusively internal; external drainage systems, such as gutters and lawns may also trigger flooding if there's a leak or heavy rainfall.
Spring Run-Off
While spring is welcomed after a long winter, the copious amounts of rain, paired with the thaw of snow, pose a flood risk for many homes. If melting snow in your backyard has no proper run-off or channel to flow away from your home, your backyard will become oversaturated, and the water will eventually draw itself into the foundation of your home. Not only will flooding occur, but there will be significant structural issues.
Natural Flooding
When there's consistent, heavy rain this spring, make sure you take the proper precautions to avoid flooding, such as investing in a sump pump, ensuring your backyard is adequately graded away from your home, and that you have no leaks in your roof or gutters. If your home falls victim to any kind of water damage or flooding this spring, contact the certified professionals at Canada's Restoration Services for comprehensive flood restoration and cleaning services.