The Importance of Communicating With Your Commercial Cleaning Company
Posted in Commercial Cleaning, on September 14, 2021
---
The responsibilities of a commercial cleaning company aren't light; with the pandemic still a threat to our health and wellbeing, commercial disinfectant cleaning is critical for public health. Although it is highly beneficial for you to sanitize and clean your workspace on your own, it doesn't entirely eliminate bacteria, viruses, allergens or toxins. By hiring our specialized team at Canada's Restoration Services, we can ensure that there won't be any sneaky contaminants in your workplace by the time we're out of there, including mold removal services in Toronto.
Like any business relationship, communication is the key to success. It's essential to keep open lines of communication with your commercial cleaning company.
Read on to learn how commercial cleaning services thrive from good communication.
What You Should Be Communicating to Your Commercial Cleaning Company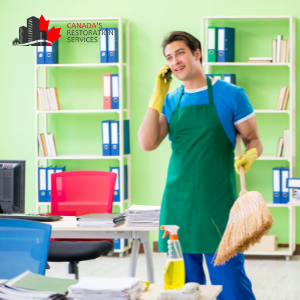 When you hire a commercial cleaning company, the most important thing is to communicate what kind of services you want to be completed, like carpet cleaning, hard floor maintenance, or window washing. Communicating with your service ensures the right areas are being targeted, appropriate tools are being used, and the right amount of visits from your commercial cleaning company are being scheduled for total disinfection and complete customer satisfaction. Additionally, it will allow you to notify your service of events, business hour changes, or even anything that needs extra attention, like high-touch and high-traffic areas.
Learn About New Services
It never hurts to ask a commercial cleaning company what kind of new services they may have, especially when it comes to complete disinfection from COVID-19 and other viruses that may be a health risk to employees and customers. By staying in the loop, you can have access to the newest technologies for the best clean.
Here at Canada's Restoration Services, our cleaning services go beyond the normal scope; we brought in new methods and in-depth procedures for a more comprehensive and easy-to-manage clean due to the pandemic. For instance, our COVID-19 centred services include commercial disinfectant cleaning, electrostatic disinfecting, and commercial and residential sanitizing.
Electrostatic disinfecting is a spray of electrostatically charged mist that is great for eliminating contaminants in the hard-to-reach areas of your workplace, efficiently providing thorough disinfection.
By communicating with your commercial cleaning team at Canada's Restoration Services, we recommend the best service tailored to your needs.
Benefits of Open Communication
Nothing but good things happen when you maintain open communication with your commercial cleaning services. Communication is essential when developing trusted business relationships, especially when it comes to everyones' health and safety.
Consistent, open communication with your service provider maximizes our clean guarantee. There's less room for error, minimal chance of misunderstandings, and a faster response to problems or new challenges.
Not only can open communication help manage the unexpected, but you can also learn about new services, promotions and develop a consistent schedule to stay on top of cleaning. Open communication with your commercial cleaning company can ensure your satisfaction and maximize the cleanliness of your workplace.
Benefits of Hiring a Commercial Cleaning Company
A commercial cleaning company goes beyond basic sanitation; it can entirely eliminate bacteria, viruses, toxins, and even cross-contamination. By hiring a commercial cleaning company and keeping your workplace thoroughly disinfected increases employee productivity and morale, results in a safe work environment, and keeps everyone — employees and customers alike — healthy and happy.
Canada's Restoration Services provides comprehensive and high-grade commercial disinfectant cleaning, prioritizing your health and safety, especially during the pandemic.
Contact Canada's Restoration Services today to book your commercial cleaning.