The Benefits of Mold Inspections in Ottawa
Posted in Mold Removal, on July 04, 2023
---
Having mold in your home can be detrimental not only to the structural integrity of your house but to your health as well. Regular mold inspections in Ottawa from certified restoration companies near you will ensure your home remains in tip-top shape, from the air quality to the physical properties. At Canada's Restoration Services, our team of mold specialists are IICRC-certified with decades of experience. We provide reliable and comprehensive services from mold inspections and mold removal to water damage restoration in Ottawa.
To learn more about the benefits of mold inspections, read below.
Detecting Moisture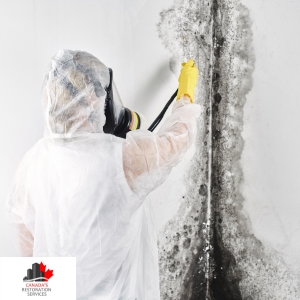 Even though you may not think mold is growing in your home, conducting a mold inspection in Ottawa may tell a different story. When mold is not visible but there is a strong moldy odour, moisture is a good indicator that an infestation is hidden somewhere on your property. If detected, our team can help guide you to the root cause of the excess moisture and eliminate the infestation with mold removal services. Proactively addressing potential mold issues in your home and preventing their development through detection and timely intervention can keep your proeprty and your family safe.
Because mold is attracted to moisture, mold inspections are likely to uncover outbreaks in areas that depend heavily on water or those that are prone to leaks.
Basements & Crawlspaces
Attics
Bathrooms
Laundry Rooms
Windows
It's essential to keep these areas clean of bacteria and anything else that can help mold formation.
Catching Mold Before It Spreads
If mold is not detected in a timely manner, there are many risks that it can cause. Interference with structural integrity is a crucial risk. When it comes to mold, it will likely grow on organic surfaces that retain moisture, like wood, drywall, or insulation. The skeletons of houses are made of wood, so if mold reaches those essential buildings, there is the risk that the house can deteriorate at an accelerated rate. Identifying mold outbreaks before that point will save you from a hefty construction bill.
Even though mold can be cleaned off, it's best to catch it in its early stages. Canada's Restoration Services can help look for any mold and execute a removal process if necessary.
Preventing Health Complications
Living with mold spores infiltrating the air, health problems can occur.
Symptoms may include:
Coughing
Congestion
Headache
Itchiness (redness, rash)
Infections
And more
If you are experiencing these symptoms, booking your mold inspection and visiting a health specialist may be best. This is extremely dangerous, especially if you are immunocompromised, as your symptoms can be worse than others. With mold inspections, you can eliminate that risk for your health and live with clean air. It's crucial to ensure the safety and purity of your indoor air quality, necessitating the absence of any dangerous substances or toxins that could pose a risk to your health.
Get Rid of Mold with Expert Inspections in Ottawa
Mold is a hassle no one wants to deal with. So don't! Call Canada's Restoration Services to deal with it instead. No matter the restoration service, from asbestos removal to mold inspection in Ottawa, Calgary, or Vancouver, we have you covered. Providing services all over Canada, from our highly-trained professionals to get your home back to good as new.