Professional COVID Cleaning Services
Posted in Commercial Cleaning, on January 28, 2021
---
The COVID-19 pandemic has reminded us how important air quality and hygiene are for a healthy life. Using heavy-duty commercial antimicrobial agents can further deplete the home's air quality, so it is crucial to opt for a proper cleaning method. The best choice is to leave the issue to the experts and hire professionals most of the time. Advanced sanitizing services provided by commercial cleaning companies ensure that your home is 100% healthy and safe for all residents. Canada's Restoration Services provides a variety of professional COVID cleaning services all over Toronto and the GTA.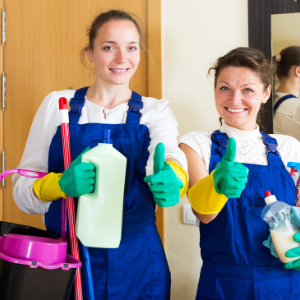 How Does Canada's Restoration Services Deal With COVID-19?
Inviting strangers to your home during the pandemic might seem risky. Safety is the number one priority, so to minimize the risk of infection and provide quality service to all clients, the staff of CRS strictly follows proposed COVID procedures:
Temperature checks of each employee every morning
The visitor log for each branch is kept.
Cleaning all touchpoints in all our office locations to be completed regularly throughout the day based on traffic through offices.
We encourage our staff to keep contact to a recommended distance while in client's homes as well as in our offices.
All of our offices and vehicles are stalked with hand sanitizer, masks and PPE.
Every staff member follows these protocols to a T to ensure the client's safety and their own. Keeping your home a healthy environment is especially important in these times, so reaching out to a commercial cleaning company is more likely to do good than harm. Professionals are equipped with tools and experience that ensure efficient and thorough removal of all pollutants, making your home clean and safe in the long term.
Canada's Restoration Services provides the following COVID cleaning services to clients:
Commercial deep cleaning – all surfaces in the home are vacuumed and sanitized, including carpets, drapes, walls, floor, ceiling, furniture, doors, cabinets, home equipment, sinks, toilets, etc.; to ensure that all potential pollutants and biohazards are removed, commercial cleaning companies use powerful vacuums with HEPA filters, and EPA approved cleaning agents.
Electrostatic disinfecting – a spray of electrostatic-charged mist is used to disinfect various surfaces; the great advantage of this method is that the positively charged particles in the mist can penetrate deep into various materials and provide excellent coverage, disinfecting hard-to-reach spots with ease; this method is especially useful for furniture, mattresses, and coats.
Commercial and residential sanitizing – commercial cleaning companies use medical-grade, EPA approved disinfectants to sanitize various types of surfaces and materials in both residential homes and offices; due to its efficiency and applicability in different environments, this is one of the most popular professional cleaning methods.
All these services come with a complete checklist that is compiled based on the disaster recovery department. The department is comprised of experts with vast knowledge in virus cleaning and disinfecting of homes, nonresidential spaces, hospitals, restaurants, movie theatres, schools, warehouses, and various other indoor environments. Keep your home clean and safe - reach out to CRS today. Contact our team of asbestos abatement and mold removal services too!