Overland vs Ground Water Damage Toronto
Posted in Flood & Water Damage, on June 20, 2022
---
Water damage in Toronto is a burden, especially with extended amounts of rainfall in the spring and summertime. From flooded basement cleanup to roof damage, there are two main types of water damage - overland vs. groundwater damage. These types of water damage are relevant as you look at water damage restoration and when dealing with insurance companies. When you work with Canada's Restoration Services for water damage cleanup and flooded basements, we'll help you manage communication, paperwork, and documentation with your insurance company.
Here's what you need to know about the difference between overland and groundwater damage in Toronto.
Overland Water Damage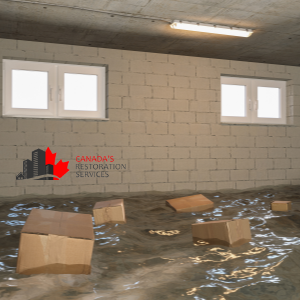 Overland water is considered to be sewer backup caused by the entrance of surface water and floods. This is when water enters your home from a point at or above ground level. Overland water damage in Toronto is water that enters the house from freshwater sources such as an overflow of rivers, ponds, lakes, rain accumulation, or a rapid snow melt.
Groundwater Damage
Groundwater is considered a sudden or accidental water infiltration through floors, foundations, slabs or basement walls. Flooded basement cleanup is a burden to deal with, which is why it's crucial to contact a trusted and credible water damage restoration company to handle the issue effectively. Canada Restoration Services provides 24/7 emergency services for any type of water damage, including floods, flooded basements, sewer backups, burst pipes and overflowing appliances. When you call our team for emergency water damage restoration services in Toronto, we will be on-site within 45 minutes of your call.
How to Prepare for Water Damage
Water damage is a stressful experience for many homeowners. It is often unexpected, and solutions need to be made at the moment of the event. Because of this, it is vital to plan accordingly and think about what to do if water damage occurs in your home. Water damage repairs can be costly, which is why you should take steps to help mitigate the risk of damaging paperwork, furniture and other significant things stored around your place. Here are some ways to be proactive when it comes to water damage in Toronto:
Install a sump pump - this is the most important preventative step as it can remove flood water from your home and minimize water damage
Keep a current and detailed home inventory list
If your neighbourhood/city is prone to floods - take precautions throughout your property
Put together a disaster safety kit
Create an effective plan in advance
How to Start a Water Damage Claim
We understand that water damage repair can be costly and adds stress to your already existing problem. At Canadian Restoration Services, we work with every insurance company in Canada so that you don't have to worry if you have insurance coverage or not. When starting a water damage claim, some steps should be taken as soon as possible.
Call your insurance company with detailed information regarding the damage
List all damaged or destroyed items
Keep all receipts related to water damage cleanup
If you need emergency services, you can call Canadian Restoration Services for 24/7 assistance from emergency water damage clean up to mold removal in Toronto.
Contact Canadian Restoration Services today for information regarding overland or groundwater damage in Toronto.