How to Prevent Basement Flooding During Heavy Rain
Posted in Flood & Water Damage, on October 14, 2022
---
With autumn in full swing, so are cool temperatures and days with endless rain. While chilly and rainy days may seem nice and cozy, rain causes some problems, such as attic leaks, sewer backup, or basement flooding. If water enters your basement during intense rainfall, it's critical to contact a professional for flooded basement cleanup to save your belongings and the structural integrity of your home. Without flooded basement repair and water damage restoration from a trusted provider like Canada's Restoration Services, you put your property at risk of secondary water damage, like wood rot and mold growth.
Continue reading to learn how to keep your basement dry and safe from rain.
How Does Rain Enter Your Basement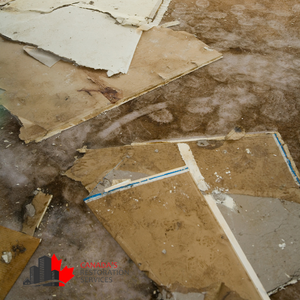 When it comes to rain entering your basement, it can happen in various unexpected ways. The most common cause of basement water intrusion are cracks in your foundation walls or floor, resulting in water seeping through the concrete and into your property. Another common reason is a failed sump pump; while sump pumps are excellent when they work, they may turn off during a power outage, ultimately bringing water into the basement. With torrential rainfall, there may also be a risk of main sewer lines backing up and into your basement. If you notice an unpleasant smell, and a gurgling noise coming from your basement floor drain, sewer backup may be imminent, and you'll require flooded basement cleanup to limit the damage.
How to Keep Rain Out of Your Basement
There are a couple of methods that you can do to prevent rain from entering your basement. To start with, waterproof your basement with a sump pump. A sump pump senses groundwater levels rising, and when it gets too high, it moves water away from your basement to the outside of your property. However, it is critical to get a backup generator to guarantee that your sump pump will always work, even during a power outage. Additionally, it's key to be proactive and maintain your basement. Look for cracks in the foundation, ensure that window wells are installed correctly and that your sewer pipes are clean and flowing smoothly.
Dangers of Basement Flooding
Heavy rainfall will damage your basement in several ways, but the damage will be even more intense if you don't contact a professional for flooded basement repair and restoration. Your property will experience structural damage, wood rot, mold infestations, and electrical damage. Additionally, your personal items will be difficult to salvage, and you may face health problems due to lingering bacteria in the air and mold infestations due to excessive moisture.
How to Respond to Basement Floods
To limit the destruction of your property from flooding, contact a professional within 24 to 48 hours for water damage restoration and flooded basement cleanup. For advanced and trusted basement flood cleanup, choose Canada's Restoration Services. We understand this is a stressful experience and want to make it as seamless as possible. With prompt response, you can minimize the need for mold removal in Toronto, Vaughan, and other GTA cities. Our experienced, IICRC-certified, and trusted technicians will effectively restore your basement and advise you on how to waterproof your basement.