How to Manage Sump Pump Water Damage Toronto
Posted in Flood & Water Damage, on June 23, 2022
---
A sump pump is often the unsung hero during torrential downpours, saving your property from water damage and flooding. However, if your sump pump fails and water infiltrates your property, it can be stressful to navigate the situation. When it comes to sump pump water damage and needing basement flood clean up, contact Canada's Restoration Services. Our team of certified and trusted professionals will walk you through the process of basement flood cleanup and restoration for water damage in Toronto.
If your sump pump fails and you experience water damage in Toronto, here's how to manage it.
Signs of a Broken Sump Pump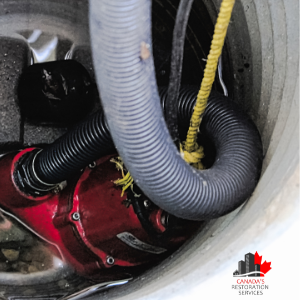 There are many signs indicating your sump pump may fail, ultimately causing water damage in your Toronto property. If your sump pump starts making strange noises or vibrates excessively when running, there's an issue with the motor, and without repair, your sump pump may fail during the next rainstorm. If you live in a flood-prone area, your sump pump may be running overtime, which significantly shortens its lifespan and could fail without notice. However, your sump pump could be in perfect condition and still fail during a power outage. To prevent water damage and the need for basement flood clean up, have a backup generator on hand for your sump pump to avoid failure.
As soon as your sump pump fails, you must contact a water damage restoration service immediately. This way, the team of certified technicians will be able to catch the problem early and limit the amount of water that enters your basement. Our team of trusted technicians at Canada's Restoration Services will walk you through the steps and manage the clean up process so you can stay safe.
Step 1: Water Removal
When it comes to water removal and extraction, it must be done professionally. The water in your basement will likely contain hazardous pollutants and contaminants, like viruses and bacteria, making it unsafe for someone without protective gear to deal with. When using a professional service, the water extraction process is completed with high-powered vacuums to eradicate all water from your basement.
Step 2: Drying Affected Areas
Once the water is removed from your basement, the drying process is crucial. Fans and dehumidifiers help dry out the area to keep moisture low. While our team will effectively dry the area, keep in mind that it's always a good idea to keep fans and dehumidifiers on to ensure your basement maintains low humidity.
Step 3: Salvageable Item Separation
After the drying process is complete, we'll work with you to figure out what items can be salvaged and what needs to be replaced, depending on the extent of the water damage. At Canada's Restoration Services, we'll help salvage personal belongings and return your things to their original condition.
Conduct a Mold Inspection
Mold growth may increase following water damage, especially if you don't keep your dehumidifier and fan running. A few days after your sump pump failure, it's wise to contact a restoration company for a mold inspection. This way, you'll be able to catch any possible mold growth before it develops into large colonies throughout your property.
Water Damage Restoration & Cleanup
With Canada's Restoration Services, we guarantee your satisfaction with our restoration and cleanup services. Managing a sump pump failure and water damage is an unpleasant and worrisome experience, but our team will make things easier for you.
For effective and efficient water damage restoration and cleanup, contact Canada's Restoration Services today.