How to Manage Flooded Basement Cleanup When Snow Melts
Posted in Flood & Water Damage, on February 17, 2023
---
Flooded basements and water damage in Toronto may happen for various reasons, ranging from sewage backups to burst pipes. But over time, intensified snow accumulating over winter will find its way into the basement, causing severe water damage and maybe even mold infestations. When the snow melts this spring and infiltrates your property, reach out to Canada's Restoration Services for flooded basement cleanup and, if necessary, mold removal in Toronto.
Here's what you should know about managing a flooded basement due to melting snow.
How Melting Snow Causes Leaks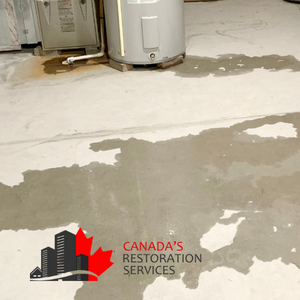 This spring, be wary of excessive amounts of snow around your foundation. Like rain, melting snow, especially high amounts of it, will cause leaks in your basement. When it rains in warmer months, the water seeps into the soil and doesn't threaten your property. However, in the winter months, when it rains or the snow begins to melt, the ground is still frozen, and the snow melt doesn't have anywhere to go. Since melting snow cannot be absorbed into the ground, it pools until it finds somewhere to drain. Eventually, your property will give into the pressure, and the accumulated water will seep into your foundation.
Signs of Water Damage in Toronto During the Winter
There are a few signs to be aware of regarding water damage in your basement this winter. Keep an eye out for discolouration in the walls, paint cracking or bubbling, cracks in the wall, and small puddles in your basement. Water accumulation is the most obvious indicator of a leak in your basement, no matter how small the puddle is. As well as water accumulation, mold outbreaks may also tell you that you have a leak or water damage. If you notice water pooling around your basement walls or new mold infestations, contact Canada's Restoration Services for flooded basement cleanup and mold removal in Toronto. Catching water damage in Toronto early is vital in minimizing structural damage.
How to Restore Basement Water Damage in Toronto
The best and most effective way to restore your basement from water damage is by contacting a professional restoration company. At Canada's Restoration Services, our team of certified and trusted professionals will utilize various high-powered tools to ensure your property is dry and back to its normal condition. Following water damage restoration, there are some preventive measures to take to stop snow melt from infiltrating your basement again. Clear snow away from your property, keep your gutters clear, make sure your sump pump is working, and fix any cracks that may have appeared in your foundation.
How to Deal With Snow Melt & Mold
When water infiltrates your property, mold outbreaks will likely follow. After water damage restoration has been completed, keep your eye — or nose — out for mold infestations. If you notice the smell or the distinct appearance of mold, contact Canada's Restoration Services for a mold inspection.
Contact Canada's Restoration Services for Flooded Basement Cleanup
To keep damage at a minimum, contact our team for effective flooded basement cleanup and water damage restoration. Our team will restore your property and advise you on how to waterproof your basement in the future.