How to Kill Mold After a Flood
Posted in Mold Removal, on November 09, 2022
---
When water ends up in your home, time is of the essence. If water damage cleanup and repair aren't conducted promptly after a water damage incident, trouble is likely to follow, such as electrical damage or wood rot. One of the most problematic effects of water damage is mold infestations. If mold removal in Toronto isn't completed, it can lead to structural damage and severe health issues for you and everyone within the property. After a flood, mold grows in a mere 24 to 48 hours, so it's imperative to contact a professional for flooded basement cleanup as quickly as possible.
Here's your simple guide to killing mold in your home after a flood.
Get Flooded Basement Cleanup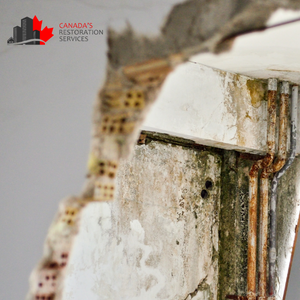 While basement flooding isn't uncommon, it's almost always an unexpected and stressful experience. One way to minimize the stress of flooded basement cleanup is by contacting a trusted restoration company in Toronto. At Canada's Restoration Services, our team of certified and experienced technicians will arrive at the scene within 45 minutes in response to water damage. Once we arrive, we'll clean and dry out your basement, restore your content, and keep ventilation high to mitigate mold. When flooded basement cleanup occurs immediately, you limit the chance of mold spores from settling in your property and growing into large infestations.
Schedule a Mold Inspection
Mold inspections are a comprehensive and non-invasive way to identify all sources of mold growth within your property, especially in the area where there was water damage. To ensure that your home is free of mold infestations, contact Canada's Restoration Services for a complimentary visible mold inspection in the Greater Toronto Area.
Start Mold Removal in Toronto
Once a mold inspection is complete, mold removal is the next course of action. While you may be tempted to try DIY methods of mold removal, they aren't practical, safe, or successful. Mold removal in Toronto from Canada's Restoration Services is the most effective way to kill mold in your home. Following removal, our team will guide you on reducing the risk of future infestations, such as improving ventilation and keeping moisture low.
Manage Moisture Indoors
Mold spores are attracted to humid environments, which is why properties that have recently experienced water damage are susceptible to outbreaks. Once professional mold removal has been completed, you must keep moisture in your home low to prevent future infestations. A dehumidifier and a hygrometer are excellent ways to manage water in your home. A dehumidifier will keep humidity at a minimum, and a hygrometer will tell you the moisture levels in your home. Ideally, you want your home to be around 35% humidity to keep mold spores away.
Air Quality Testing
It's wise to conduct air quality testing following water damage; there may be several contaminants in the air that may harm your health. The most common contaminant that air quality testing picks up is mold. Air quality testing determines the type of mold lingering in your home, and its spore levels, which is critical when determining the size of an infestation. When air quality tests detect mold, regardless of the type, mold removal must be completed.