How to Keep Mold Out of Your Attic Insulation
Posted in Mold Removal, on March 29, 2023
---
Mold is attracted to humid, dark, and stuffy environments full of organic material, which is why attic insulation is often full of mold growth. Mold in attic insulation can result in widespread structural damage and many adverse health effects. If you notice a change in your health or suspect that mold is lingering in your insulation, contact Canada's Restoration Services for a mold inspection in Toronto. If mold is uncovered, comprehensive attic mold removal will be conducted.
Keep reading to learn how to keep mold out of your attic insulation.
Identify and Address Sources of Moisture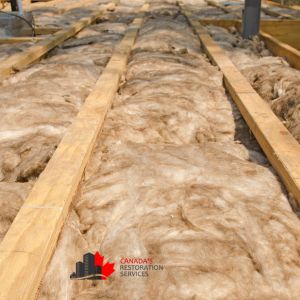 For mold to grow, it needs a moisture supply. Mold spores are attracted to a moist environment, and attics generally fit the bill. Attics often have excessive humidity due to roof leaks, plumbing issues, and, sometimes, deteriorating attic insulations. Another critical way moisture increases in attics is improper ventilation. Lack of ventilation and airflow in attics also creates a humid environment; without airflow, the air in attics becomes stagnant, making it easy for mold spores to settle and grow.
Inspect and Maintain Attic Insulation
Inspecting and maintaining your attic insulation is vital in preventing potential mold infestations. Regularly check for damage to your insulation, like if it's deteriorating or has noticeable damage. Additionally, if your property has inconsistent temperatures or high utility bills, it may indicate poor attic insulation. If that's the case, your insulation may have mold growth. Other ways to maintain your attic and avoid mold in your insulation are checking for leaks and improving the airflow. In the instance that you do notice mold in your attic insulation, contact Canada's Restoration Services for a mold inspection in Toronto.
Address Existing Mold Issues
If your attic insulation has mold growth, it must be handled professionally and immediately. Professional attic mold removal will ensure that all sources of growth have been identified and the root cause of the growth has been discovered. At Canada's Restoration Services, we'll conduct comprehensive mold removal services using only the most advanced tools and products. From removing damaged insulation to conducting air quality clearance testing, we'll ensure your attic is free of pesky mold spores.
Prevent Future Mold Growth
There are a few ways to prevent future mold growth in your insulation and throughout your entire property. For one, having adequate and effective insulation is paramount; it will minimize leaks and humidity. Managing humidity levels is also critical. To keep humidity levels low, conduct proper maintenance on potential leaks and invest in a dehumidifier. Using a dehumidifier will ensure that moisture levels in your attic remain healthy, which is ideally under 50%. When you upgrade your insulation following mold removal, upgrade to a mold-resistant insulation to prevent mold from growing in it in the future.
Mold Removal with Canada's Restoration Services
If your attic insulation becomes infested with mold, minimize its effect and work with Canada's Restoration Services. We'll remove all traces of mold from your insulation, identify any leaks or water damage in your property, and ensure your attic is safe and healthy.