How to Dry Your Property After Flooding
Posted in Flood & Water Damage, on April 25, 2022
---
When it comes to experiencing flooding and water damage, there's a long list of reasons as to why it may have occurred, ranging from torrential downpours to sewage backup. Once you identify the water source and stop water from infiltrating your home, the next order of business is flood cleanup in Toronto. Conducting flooded basement cleanup as soon as possible ensures that the affected area is dried out efficiently so that your home and your personal belongings will be safe, clean, and dry.
At Canada's Restoration Services we offer comprehensive flood cleanup in Toronto. When you call us, our team will respond within 45 minutes.
Read on to learn more about the importance of drying out your home and how to do so after experiencing water damage.
Is the Water Hazardous?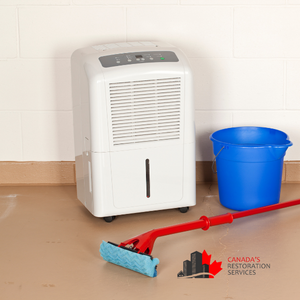 If your basement falls victim to a flood, you need to identify the water source right away – doing so is essential to your health, safety, and efficiency in water damage restoration and flooded basement cleanup. If the water source has come from a sump pump failure, an overflowing toilet, or sewage backup, there's a great likelihood that the water is contaminated and incredibly hazardous to your health. Contaminated water must be restored urgently to avoid any potential health implications. If flooding in your home was triggered by a sump pump issue, overflowing toilet, or sewage backup bubbling through floor drains, leave the room immediately, and contact the trusted professionals at Canada's Restoration Services for flood cleanup in Toronto.
What Areas Need to be Dried?
Experiencing water damage and/or flooding can quickly become overwhelming. It's tough to know where to begin with the drying and restoration process without professional guidance.
There are a few primary areas in your home that must be dried and cleaned to keep your property in peak condition. To begin with, you'll need to find out if water has immersed both your carpeting and floorboards – if both have been soaked, they should be targeted first during flood cleanup and restoration. Following the drying of your flooring and carpeting, the next place to look is within your walls. While it may be a challenge for you to dry your drywall on your own, the professionals at Canada's Restoration Services use various methods to ensure that any affected drywall is dry and clean.
How to Dry Out the Area
Our team of professional flood damage specialists at Canada's Restoration Services uses specialized techniques to guarantee your home is dry and restored after water damage. The first step is water extraction, which eradicates all traces of moisture from your property. After water extraction, large fans and dehumidifiers are placed around your property to increase air circulation and dry any lingering moisture. Until air quality and moisture tests are conducted and show that the air is safe and at ideal humidity levels, fans and dehumidifiers will continue to run.
Why Fast Flood Cleanup in Toronto
A big concern with flooding, especially when restoration and the drying process has not been conducted promptly, is the increased chance of mold infestation. It only takes a few hours for mold spores to fester and grow in wet conditions. Indoor areas that have been affected by flooding provide the ideal breeding conditions for travelling mold spores. Fast drying and flooded basement cleanup minimizes the opportunity for mold to contaminate your home.
If flooding and water damage occurs, look no further than our trusted team at Canada'sf Restoration Services. We'll respond in 45 minutes or less!