How to Deal with Rotted Wood During Basement Flood Clean Up
Posted in Flood & Water Damage, on September 27, 2022
---
Basement floods happen for various reasons, including sudden pipe bursts, storms, or sewage backups. Regardless of the cause, the priority following a water damage incident is basement flood clean up to minimize damage and maintain the structural integrity of your property. One of the most commonly encountered types of secondary damage is wood rot, which can be mitigated with quick water damage restoration efforts.
Protect your property with quick and effective water damage cleanup and restoration in the Toronto area with Canada's Restoration Services. Our team will respond for water damage and basement flood clean up within 45 minutes of your call, so you can prevent your wood from rotting.
Here's how to deal with rotten wood during basement flood cleanups.
How Does Water Damage Lead to Rotted Wood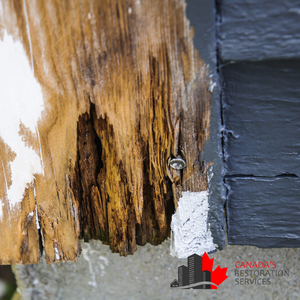 Rotted wood significantly impacts your property's structural integrity and imposes health risks, so it's crucial to know the signs of wood rot and where to look for it. Wood rot occurs when there is a combination of moisture and fungi due to water damage caused by flooding, leaks, or burst pipes. Rotting wood is caused by continuous dampness which allows all types of fungi to thrive and grow within the wood tissue.
Signs Your Wood Might be Rotted:
Fungus on wood that may appear brown, yellow, or white
Brittle or easily broken wood
Peeling or flaking of exterior paint
The wood has an unusual smell
Infestation of insects
How to Deal With Rotted Wood in Your Home
Whether you've experienced a large flood or a small leak in your basement, rotted wood is no joke and needs to be restored to prevent mold outbreaks from spreading to other building materials like drywall and flooring.
When moisture lingers in wood, it creates an environment where fungus quickly forms and deteriorates the wood's fibres. Though wood rot doesn't cause health risks, a room that contains excessive moisture and is susceptible to fungi and mold which does have adverse health effects.
Detecting Wood Rot
As rotting wood progresses, it can be detected visually. But, in its early stages, wood rot occurs below the surface and is best detected with mold testing and inspections during basement flood clean up.
Restoring your Basement
After contacting Canada's Restoration Services, our technicians will identify and assess the source of flood water and its potential risk. Although, before the true extent of the damage is revealed, the water must be removed. The professionals at Canada's Restoration Services use specialized equipment and pumps to remove the contaminated water effectively.
Once the affected area(s) have been drained and cleaned, the restoration process begins. At Canada's Restoration Services, our technicians will sort your items from salvageable to non-salvageable, determining what needs to be cleaned up and checked by a flood damage specialist. Once all necessary steps have been taken, you can reoccupy your property.
Expert Flood Damage Restoration Services
Our team at Canada's Restoration Services knows precisely what your property needs regarding floods and water damage restoration. With years of industry experience, over tens of thousands of inspections and jobs completed nationwide, as well as 24/7 customer service for restoration services, we're the company you can rely on when your home needs restoration.