How to Deal with Mold in the Attic
Posted in Mold Removal, on November 10, 2023
---
Mold is a common household invader that can lead to health issues and structural harm when left unattended. When it infiltrates your attic, mold becomes even more challenging to address, often eluding detection until the situation worsens. Attic mold removal in Toronto demands a methodical approach involving both prevention and remediation strategies. We advise using a professional restoration company in Toronto, such as Canada's Restoration Services, for effective attic mold removal. Our team is equipped with IICRC-certified specialists with decades of experience and industry training.
To learn more about how you should address mold in your attic, read on or contact Canada's trusted mold remediation experts at Canada's Restoration Services.
Identifying the Telltale Signs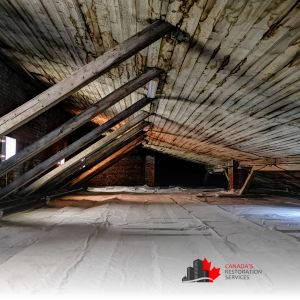 The initial step in grappling with mold in your attic revolves around recognizing its presence. Attics are prime breeding grounds for mold due to inadequate ventilation, insulation deficiencies, and elevated humidity levels. Inspect for telltale signs, such as musty odours, discoloured surfaces, and visible mold colonization. Examine the insulation, wooden support structures, and any items stored in the attic. If you spot mold or hold suspicions, consider enlisting Canada's Restoration Services to evaluate the scope of the issue. Accurate identification is paramount before proceeding with remediation.
Preventing its Reoccurrence
Once you have confirmed the existence of mold, it is imperative to implement measures that will impede its return. Attic mold frequently resurfaces if underlying problems are left unaddressed. Start by enhancing attic ventilation, as proper airflow can help mitigate humidity, a common catalyst for mold growth. Ensure that your attic is adequately insulated, and promptly rectify any leaks or moisture-related complications. In addition, consider the utilization of mold-resistant materials when refurbishing your attic, as these materials can significantly reduce the probability of mold reappearing. Routine inspections and maintenance by professionals will ensure that mold does not reappear .
Safely Eradicating Mold
For substantial mold issues or in cases where health concerns arise, it is advisable to seek the expertise of professional attic mold removal services. Nevertheless, when dealing with minor mold infestations, you can attempt self-remediation. Always wear protective attire, including gloves, goggles, and a mask to safeguard against inhalation of mold spores. Begin by isolating the affected area to prevent the dispersion of mold spores. Employ a mixture of water and detergent for scrubbing mold off non-porous surfaces such as metal or plastic. In cases involving porous materials like wood or drywall, it is often more judicious to remove and replace the contaminated components. Following the cleaning process, employ a HEPA filter vacuum to capture any residual spores. Ensure the proper disposal of tainted materials and cleaning supplies.
Rectifying Any Damage
After successfully eliminating the mold, it is essential to address any damage it may have caused. Conduct a thorough examination of your attic to identify structural issues, as mold can compromise the integrity of wooden support structures. If required, consult a renowned professional restoration company in Toronto, Canada's Restoration Services for repairs. Additionally, contemplate applying mold-resistant paint to your attic, which serves as an added safeguard against future mold colonization. Maintaining proper attic ventilation and moisture control is crucial for sustaining a mold-free environment.
Eliminate Attic Mold Effectively with Canada's Restoration Services
Effectively managing mold in your attic is a challenging task, but it is crucial for preserving your home's well-being and the health of your family. Recognizing signs of mold, deterring its resurgence, safely eliminating it, and rectifying any resultant damage are pivotal components of this process. While some mold concerns can be addressed through do-it-yourself approaches, it is always important to seek professional guidance from Canada's Restoration Services, especially in cases of extensive infestations which are hazardous to health. Always bear in mind that consistent maintenance and preventative actions will keep your attic mold-free in the long run. Avoid neglecting the issue, as timely intervention can spare you from more severe repercussions down the road.