How Much Does Electrostatic Disinfection Cost? Is it worth it?
Posted in Commercial Cleaning, on February 28, 2021
---
Because of COVID-19, deep cleaning and disinfection have become much more relevant today in residential and commercial settings. With everyone on the highest alert, electrostatic disinfection services are in great demand today, especially in high traffic settings.
When contracting a commercial COVID cleaning company, the important thing is to deal with a reputable firm that uses the most effective products along with a professional cleaning protocol. The main objective, of course, is to provide long-lasting residual surface protection.
The Current Situation with COVID-19
As things move forward with the COVID-19 pandemic, business owners are realizing that the "new normal" will include comprehensive sanitization and disinfection of the workspace. This may well include electrostatic disinfection services to ensure safe working conditions for staff.
Today, Electrostatic Deep Cleaning is the most cost-effective way of disinfecting – it dramatically reduces sanitizing time while disinfecting even the most hard-to-reach surfaces. This cleaning protocol far exceeds any other conventional method of sanitizing and disinfecting a space.
Basics of Electrostatic Disinfection
Electrostatic disinfection is a cleaning protocol that sprays disinfecting solutions onto various surfaces and objects. The cleaning spray is charged electrostatically, resulting in a fine mist that fully allows the disinfecting solution to adhere to a surface and/or object.
Because the spray mist particles are electrostatically charged, an area that is sprayed can be completely coated with the disinfecting solution. In a customer area, a manufacturing setting, or an office environment, many different types of surfaces are effectively protected.
Benefits of Electrostatic Cleaning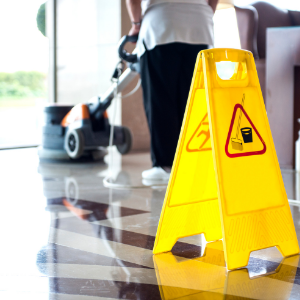 With the advent of COVID-19, hygienic workspaces have become a high priority for businesses of all types. Electrostatic cleaning is the key to sustaining a clean and hygienic environment for customers and employees alike. There is no better option for heavy traffic spaces.
Simply put, electrostatic disinfection services ensure a working environment that is sanitized and germ-free. It's actually the most cost-effective way to avoid the potential pitfalls of having a contagious working space (including the cost burden of closing down a business).
The Cost of Electrostatic Cleaning
While many customers want to know the exact cost of electrostatic disinfection, there are a host of factors that must be considered, especially because every facility is uniquely different and with specific needs. Overall, there a number of considerations when costing out a project.
the protocol and frequency of existing cleaning methods
the overall condition of the workspace and/or office space
the extent of high traffic areas and/or common areas
the ceiling heights and flooring types in the facility space
the frequency of service required (and any timeframe)
Canada's Restoration Services is Your Trusted Commercial COVID Cleaning Company
At Canada's Restoration Services, we focus on identifying your needs and exceeding your expectations. We service both residential and commercial customers and use the highest quality eco-friendly cleaning solutions, along with the highest cleaning standards. Our services go beyond disinfection to include removal of dangerous asbestos contamiantion and mold removal in Toronto.
CRS can deliver the results if you're currently shopping around for a reputable commercial COVID cleaning company. Learn more about our services by calling one of our in-house experts at 1-888-551-0514 or visit our website at www.canadarestorationservices.com.